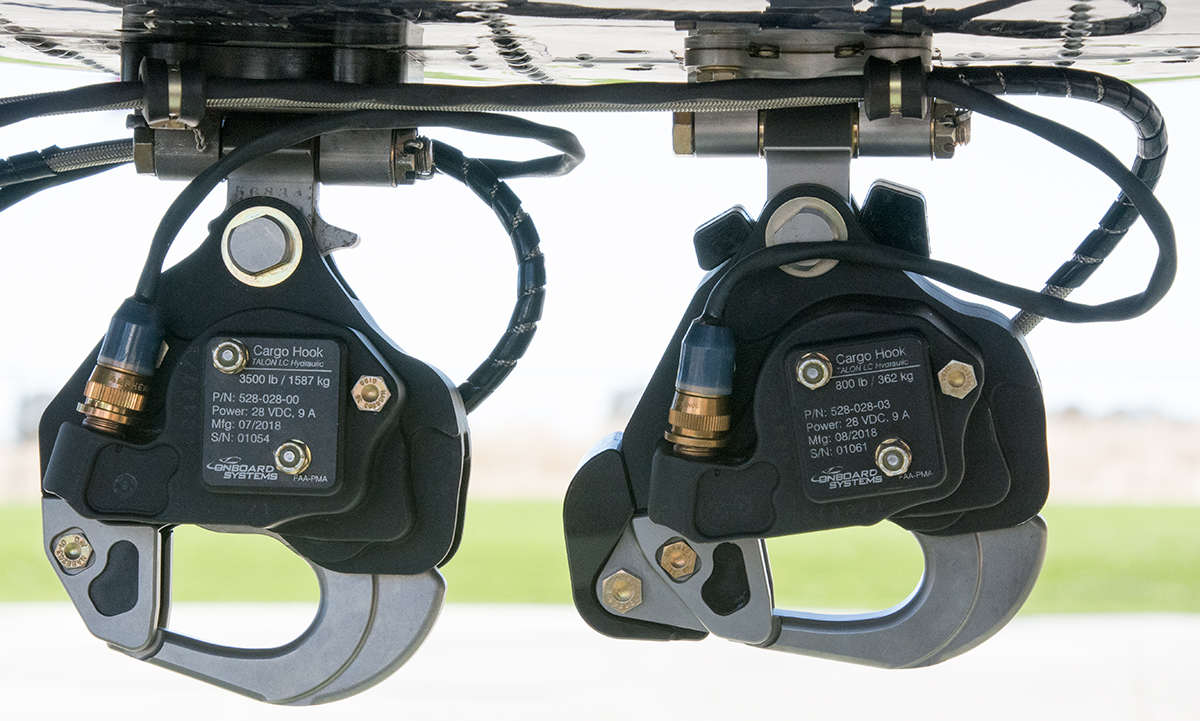 Specifications
Part Number

200-448-00

Primary Hook Load (NHEC)

2,000 lb. (907 kg)

Secondary Hook Load (HEC)

800 lb. (363 kg)

Unit Weight

14.2 lb. (6.4 kg)
MD500 Series
HEC Dual Cargo Hook Kit
Product Number: 200-448-00
Call to confirm availability
Onboard Systems has developed a Human External Cargo (HEC) hook kit for the MD500 aircraft series. Built around a dual installation of our TALON® LC Hydraulic Hook, this kit provides an STC-certified solution for a variety of CFR Part 133 external load missions, including HEC, high-value cargo transport, utility line work, short haul, and search & rescue.
View Manuals, Certifications, and Hardware Notes
Send Me A Quote
Add to Cart
Benefits
Complete Dual-Hook Solution:

Comes with everything you'll need to upgrade your aircraft to a dual cargo hook system, including primary and secondary cargo hooks, attach point fittings, master and slave cylinders, external electrical release harnesses, and hardware.

STC Certified for HEC Missions:

This cargo hook system meets the 14 CFR part 27 certification requirements for Human External Cargo (HEC).

Combined Dual Master Cylinder:

User-friendly dual master cylinder combines the backup hydraulic release for both hooks along with the electrical release for the secondary hook into a single unit.

Onboard Weighing System Option:

Know the exact weight of your load! Our pin load cell replaces the attach bolt, eliminating extra linkage.

HEC Longline Options:

Choose one of our HEC longlines, or use a longline approved by the local aviation authority.

NHEC Load Options:

With the Y-rope attached to both cargo hooks, the dual cargo hook system load limit is 800 lb. (363 kg) for both HEC and non-HEC (NHEC) missions. When an NHEC load is attached to only the primary cargo hook, the normal aircraft load limit applies.
TALON® LC Hydraulic Hook:Our hydraulic hook greatly increases load security by using a hydraulically activated release mechanism instead of a traditional manual release cable.