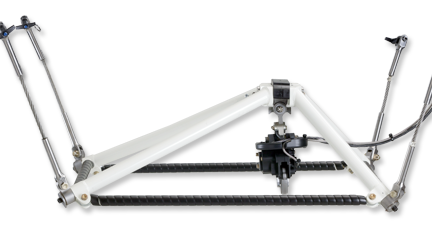 Specifications
Part Number

200-321-00

Design Load

2,557 lb. (1,160 kg)

Unit Weight

35 lb. (15.9 kg)

Typical Overhaul

5 years/1,000 hours
Airbus Helicopters H130 (EC130 B4)
Cargo Hook Swing Kit with TALON LC Hydraulic Hook
Product Number: 200-321-00
Call to confirm availability
While the EC130 has traditionally been used for executive transport, it also makes an excellent utility aircraft! Our swing cargo hook system for the EC130 features our revolutionary TALON LC Hydraulic Cargo Hook and offers many advantages over the the original OEM equipment, including an integrated Onboard Weighing System. Our swing cargo kit is designed to mount to the fuel cell saddles via four cables.
View Manuals, Certifications, and Hardware Notes
Send Me A Quote
Add to Cart
Benefits
Built-in Protection:

Travel limits and bumper ring keep the hook and cables from striking the airframe, protecting your aircraft and your cargo hook system.

Gimbal Frame:

Distributes weight between the four cables more effectively than a rigid frame to ensure balanced load sharing throughout the aircraft.

Zerk Fittings:

Grease fittings are present at the cable termination for easy lubrication and extended cable life.

Extended Time Between Overhauls:

Teflon-lined, self-lubricating bushings at all wearing joints extend the typical overhaul life.

Fuel Drain Guard Kit:

Helps prevent the accidental release of fuel and is a vital safety improvement for this aircraft.

Integrated Onboard Weighing System:

Allows pilots to instantly know the exact weight of the cargo on the hook. Reduces the risk of overload airframe stress and helps the pilot make more informed aircraft loading decisions.
TALON® LC Hydraulic Hook:Our hydraulic hook greatly increases load security by using a hydraulically activated release mechanism instead of a traditional manual release cable.

The Onboard Advantage:

Our cargo hook kits can be installed on new or existing aircraft using standard hand tools. Time between overhauls is five years or 1,000 operating hours. And because Onboard Systems maintains a large inventory of cargo hook kits and spare parts, we can usually ship your order out quickly.