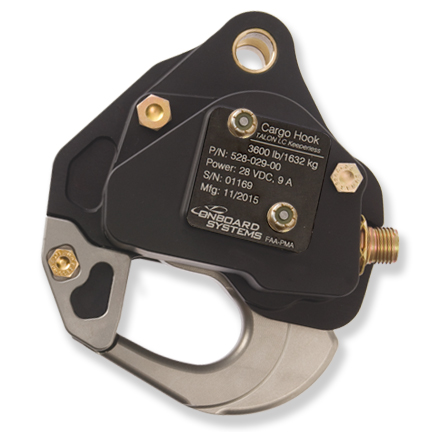 Specifications
Part Number

200-353-00

Design Load

2,557 lb. (1,160 kg)

Ultimate Load

11,574 lb. (5,250 k.)

Release Capacity

8,750 lb. (3,969 kg)

Minimum Release Load

0 lb. (0 kg)

Unit Weight

3 lb. (1.36 kg)

Typical Overhaul

5 years/1,000 hours
Airbus Helicopters AS350 B2 & previous; Airbus Helicopters H130 (EC130 B4)
TALON LC Keeperless Cargo Hook Replacement Kit
Product Number: 200-353-00
Call to confirm availability
Maintaining or overhauling legacy cargo hooks can be expensive — both in terms of cost and in turnaround time. Onboard's replacement cargo hooks give you fast access to a better quality cargo hook for a great price. With latest generation innovations and improvements, lower future overhaul costs, and quick availability to reduce downtime, Onboard Systems' replacement hooks are clearly the most cost-effective solution available.
NOTE: AS350 B2 & previous aircraft with OEM B2 Swing and all sling installations, plus EC130 B4
View Manuals, Certifications, and Hardware Notes
Send Me A Quote
Add to Cart
Benefits
Easy Maintenance & Overhaul:

Onboard cargo hooks can be overhauled in the field, at our factory, or by a qualified repair facility using simple hand tools. Quick parts availability minimizes downtime!

Easy Field Installation:

Available in easy-to-install kits for new installation or replacement of existing hook equipment.

Release Safety:

Onboard cargo hooks are designed to release 2.5 times rated load. In an emergency situation, such as a longline snag, Onboard hooks give pilots a significant margin of safety in which to release the cargo load.

Trade-in Credit:

Onboard Systems offers trade-in credits for competitor products, as well as upgrades. Please see our Trade-in Program Sheet
TALON® LC Keeperless Hook:Our third generation cargo hook sets the standard in reliability — a high quality, lighter weight, and lower cost hook that also costs less to maintain over the life of the product.

The Onboard Advantage:

Our cargo hook kits can be installed on new or existing aircraft using standard hand tools. Time between overhauls is five years or 1,000 operating hours. And because Onboard Systems maintains a large inventory of cargo hook kits and spare parts, we can usually ship your order out quickly.