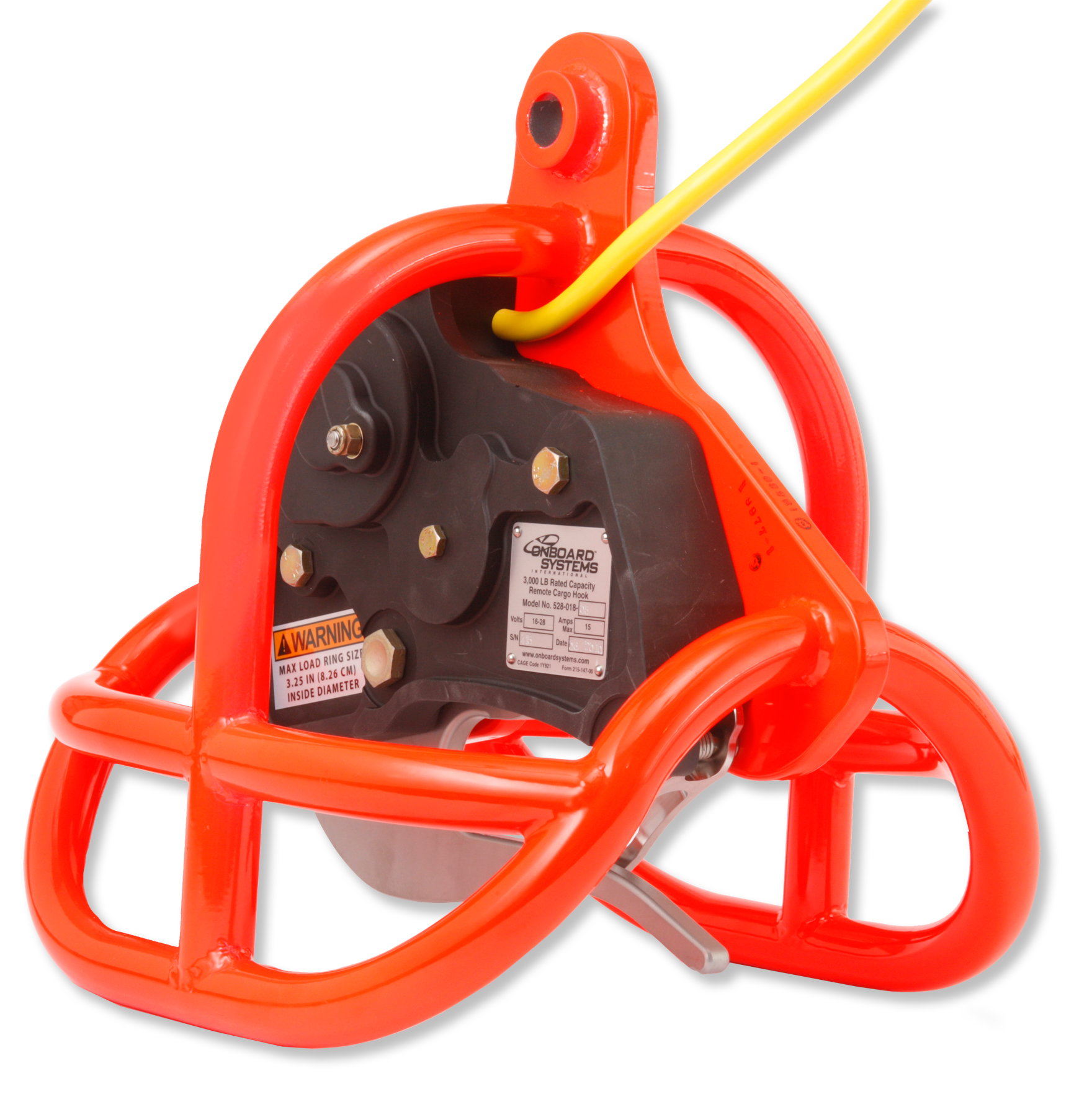 Specifications
Part Number

528-018-06

Minimum Release Load

2 lb. (.9 kg)

Design Load

3,300 lb. (1,500 kg)

Ultimate Strength

11,250 lb. (5,103 kg)

Throat Size (Height x Depth)

1.77 x 3.0 in. (45 x 76.2 mm)

Electrical Requirements

21-28 VDC (14 amps)

Unit Weight

27 lb. (12.2 kg)

Typical Overhaul

5 years/1,000 hours
Remote Hooks
TALON 3.3K Full-Cage Remote Cargo Hook
Product Number: 528-018-06
Call to confirm availability
Onboard's Remote Cargo Hooks are designed for maximum utility and simplicity for your longline external cargo missions. The cargo hook is integrated with your choice of a half-cage or full-cage enclosure and a rugged brush guard to increase protection for the entire unit. With large throats, added safety features and simplified design, these hooks have proven to be as popular with ground crews as they are with pilots.
View Manuals, Certifications, and Hardware Notes
Send Me A Quote
Add to Cart
Benefits
Large Throat for Easy Loading:

Large throat makes loading quick and easy for ground crew.

Deeper Load Beam Saddle:

New deeper pocket helps keep the load ring off the keeper.

Light Load Release:

Able to release loads weighing as little as 2 lb. (.9 kg).

Optimized Aerodynamics:

Designed to fly straighter and with less sway while loaded and unloaded.

Rugged Hook Guard:

Your choice of a half-cage or full-cage hook guard enclosure to increase the protection of the entire unit.

Durable, High-Visibility Finish:

Stands up to years of duty in the field.

Counters Voltage Drop:

Onboard's remote hooks are designed to open at 16 VDC so you don't have to worry about the effects of longline length or wire gauge.

Easy Maintenance & Overhaul:

Onboard cargo hooks can be overhauled in the field, at our factory, or by a qualified repair facility using simple hand tools. Quick parts availability minimizes downtime!

Rigorously Tested & Optimized:

Gives you years of trouble-free flying and ease of loading.

3,300 lb. (1,500 kg) Rating:

Versatile range for light and medium lift aircraft.

The Onboard Advantage:

Our cargo hook kits can be installed on new or existing aircraft using standard hand tools. Time between overhauls is five years or 1,000 operating hours. And because Onboard Systems maintains a large inventory of cargo hook kits and spare parts, we can usually ship your order out quickly.