Barry Cordage Dielectric Longlines & Weighted End Covers
Monday, September 15, 2014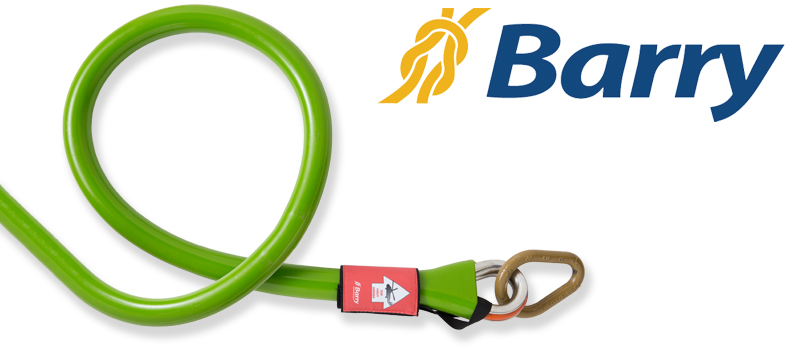 As an authorized distributor for Barry Cordage, we wanted to introduce Barry's newest product to you: D.E.W (Dielectric Even Wet) Longlines and Weighted End Covers.
Marc-Andre Pilon, Vice President for Barry Cordage, calls the Barry D.E.W. line a game changer. "From numerous angles, this new and revolutionary helicopter longline is in a class of its own. Its unique dielectric properties in wet and dry conditions makes it ideal for utility work in energized environments. Its airtight jacket makes it easier to inspect and maintain, and it is more durable and long lasting than any other longline on the market. If you need to work in dusty or muddy environments or are required to work in energized environments and wish to reduce inspection and maintenance time as well as cost, then the Barry D.E.W. line is for you."
The D.E.W longlines are available in 50-FT to 200-FT standard lengths, and a working load limit of 5,000 LB (2,268 KG); custom lengths are available by request. This is the newest addition to Barry's extensive longline and cargo net product lineup.
Barry Cordage supports their products by offering recertification services and longline inspection training webinars.
Weighted End Covers
One of the more popular Barry Cordage accessories requested are weighted end covers. They replace the standard bottom-end cover and improve longline stablity when flying at faster speeds or with lightweight loads or no load on the longline.
Weighted end covers are 8-FT (2.4-M) in length, with a maximum weighted total of 25 lb (11.3 KG); individual weight strips of 3 LB (1.36 KG) can be added or removed as needed. Standard color is black, and custom colors are available upon request.
Contact us to find out how weighted end covers can improve your aircraft's flight performance.
---
Tags
longlines
barry cordage
vol11-iss3
dielectric longlines