Full-Cage Option for 3K Remote Cargo Hook
Sunday, August 15, 2010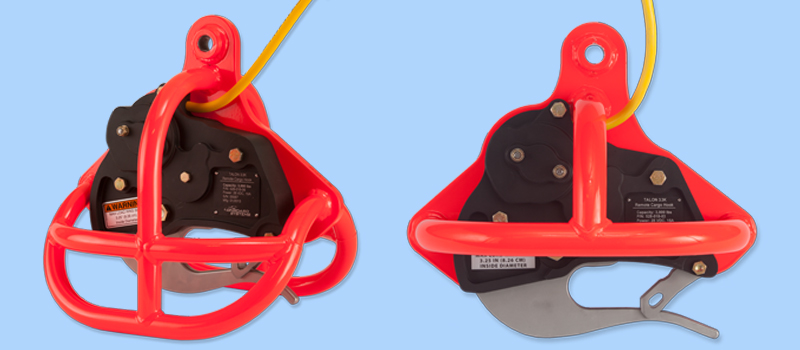 By popular request, Onboard is pleased to introduce a full-cage option for our popular 3,000 LB Remote Cargo Hook. The cage has been carefully designed to provide maximum protection for the hook while still providing easy loading access for ground crew — even when wearing work gloves. In addition, we optimized the frame design so that the full cage version weighs just a half-pound (.3 KG) more than the half-cage version.
Helicopter operators fly many kinds of missions, in all kinds of terrains and conditions. While our half-cage remote hook enables fast and easy loading, a full-cage option is ideal for external load missions in conditions that require additional hook protection, such as working on rocky terrain. Both options offer the following benefits:
Robust Hook & Cage Combination — The cargo hook and protective cage are combined into one integrated unit that is robust, reliable and low maintenance.

Durable, High-Visibility Powder Coat Frame — Ensures years of duty in the field. Lasts significantly longer than paint finishes.

Easily Drops Light Loads — Smoothly drops loads as light as 10 ounces, eliminating light load hang-ups on the load beam.

Large Throats for Easy Loading — Large throat easily accommodates all types of rings, chokers and ropes, even frozen rope chokers!

Improved Aerodynamics — Numerous flight tests have optimized the flight characteristics of our long line hooks, which are designed to fly straighter and with less sway while loaded and unloaded.

Minimized Electrical Line Loss — Ability to release rated loads down to 16 VDC decreases electrical line-loss problems.

Low Maintenance Cost — Standard time between overhauls is five years or 1,000 operating hours. Ask us about performing your next 2-year Forest Service Inspection at our in-house FAA Certified Repair Station.
Choose our half-cage 3K Remote Cargo Hook for quick and easy loading when performing missions like Christmas tree slinging and other fast-paced work. Choose our full-cage 3K Remote Cargo Hook for missions in rugged or rocky terrain where extra protection for the hook is desired.
For those operators who already own several half-cage 3K remote hooks, Onboard can convert these products to the full-cage configuration during the next product overhaul. Just drop us an email for more information.
---
Tags
vol7-iss3
remote hooks