Maintenance Made Easy
Monday, December 10, 2018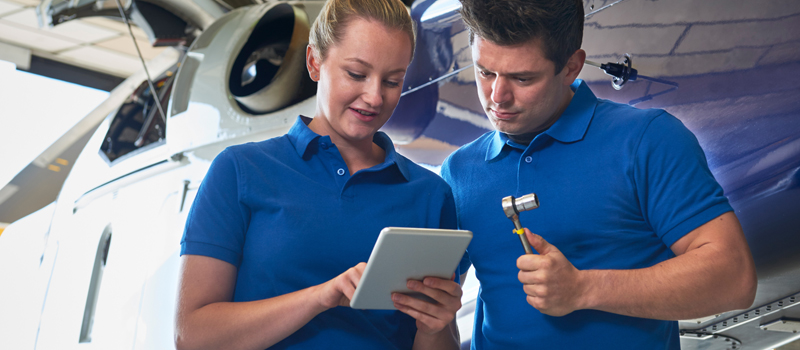 To help our customers evaluate their choices and expedite overhauls, repairs, and other services, the Onboard Systems website has a maintenance section where you can access information about our maintenance services. Here is some of what you will find:
Know Your Overhaul Options
Onboard Systems cargo hooks have some of the longest time between overhauls (TBO) in the industry. For optimal safety and performance, regular maintenance and adherence to the overhaul schedule are essential. If it's time to service or overhaul your cargo hook, you have several options:
Send it back to Onboard Systems for service in our certified FAA Part 145 Repair Station (certified by EASA to issue FAA Form 8130-3 Dual Release Certificates)

Send it to a qualified repair facility

Service it yourself
You can review these options in detail in our booklet, Your Guide to Overhaul Options, which is available for download on our website.
Our overhaul kits include all the parts you may need to overhaul your Onboard Systems cargo hook.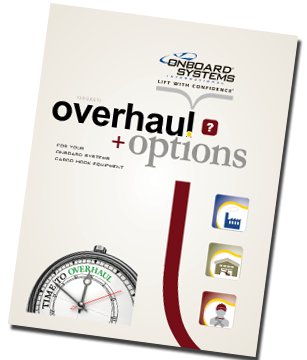 Our maintenance booklet,
Your Guide to Overhaul Options
, is available for download at our website.
Keep It Simple — Overhaul Kits
The most complicated part of the overhaul process is having to individually identify and order an assortment of replacement nuts, bolts, springs, washers, bushings, bearings, cotter pins and other small parts — and that's where overhaul kits can help. Onboard's overhaul kits contain all of the parts and components used by our own factory technicians when they perform a standard factory overhaul. They let you place an order for a single part number and receive all the individual components needed to perform a standard cargo hook overhaul. In addition to the speed and convenience these kits offer, we've priced them at a discount compared to ordering each of the included components individually.
Overhaul kits will greatly simplify the overhaul process while saving you time and money. You can click here to view our complete list of overhaul kits.
Service Alerts & Bulletins Information
To make it easy for customers to see if their equipment needs additional attention, we've set up a special page on our website, Service Alerts & Bulletins, that provides a quick overview of all Service Alerts and Service Bulletins issued, and the specific part numbers affected.
Download Current Manuals
Our website gives you access to a wide variety of documents, including our product catalogs, user and service manuals, price lists, troubleshooting guides, and much, much more. You can type what you're looking for in the Search Box at the top of each page and you will get a list of documents pertaining to your search. You can view, download, or print out our documentation twenty-four hours a day, seven days a week.
RMA Requests Online
If you want to send parts or products back to the factory for repairs, overhauls, restocking or warranty service, start the process at our website by generating an RMA (Returned Material Authorization) number. Our online RMA request form makes it easy for you to advise us what you are sending us, and why. Just fill out the form and press the Submit button. You will receive the RMA documentation by email, ensuring that when the package arrives at the factory, it can immediately move into the appropriate repair or service queue. Don't forget to include a copy in your package to expedite processing.
Documentation Update Service
Onboard Systems offers free, automated documentation updates. Just visit our website to register your parts and products, and we will send you automatic notifications of documentation changes and service bulletins via fax or e-mail. You can even select the preferred update frequency that fits your schedule—daily, weekly, or monthly. It's the easy way to ensure you always have the latest user and technical manuals for your library. If you're already signed up, don't forget to add any new equipment you've purchased.
Request Technical Support
If you have specific questions about overhauls or repairs, our website includes a Technical Support Form that you can use to send us questions, provide feedback, or request additional information 24x7. And if you need to speak to someone, our hours of operation and contact details can be found right here on our website.
---
Tags
vol14-iss4
cargo hook maintenance
cargo hook overhaul
vol11-iss4