Onboard Weighing Systems
Minimize stress to your aircraft while maximizing load economy and hauling efficiency with an Onboard Weighing System. Every aircraft has an optimum balance point between load size and flight speed that results in less downtime for maintenance and the ability to take on more work. When pilots know the load weight, they don't have to err on the side of caution and can immediately report accurate weight statistics to customers. Onboard Weighing Systems integrate seamlessly with many of our cargo hook kits and are consistently accurate. It's just another way that Onboard Systems helps you Lift with Confidence®.
How it Works
Weight on the cargo hook is measured by a link-style or pin-style electronic load cell, using state-of-the-art strain-gauge technology. The load cell is temperature compensated and requires little maintenance. A quick glance at the cockpit-mounted indicator tells the pilot the weight of the cargo on the hook within 10 LB/KG. The C-39 Cockpit Indicator displays weight on a large LCD display with backlit digits, and operation is very simple. The pilot uses two buttons to select the desired load damping, readout units (LB/KG), and zero load settings. The display mounts in a 2-1/4" hole.
Safely Lift Heavier Average Loads — Ramp up productivity by eliminating guessing games about the weight of your load. When the pilot knows the exact weight being carried, there's no need to err on the side of caution.
Improve Customer Relations — Eliminates disputes over weight promised or weight transported. You can report accurate statistics to your customer right away.
Reduce Maintenance Costs — Never make load weight miscalculations again. Your pilots will know the load weight every time. Greatly reduce repairs from airframe overstress and overload.
Digital Readouts in the Cockpit — Provides a clear, backlit, easy-to-read digital weight readout in pounds or kilograms. Easy to operate without increasing pilot workload.
Highly Accurate — Digital technology in our weighing systems are consistently accurate to +/- 1.0%.
Includes All Hardware — All necessary hardware for a full installation is included. Comes with the load cell, cockpit indicator, and wiring harness.
Link-Style Load Cells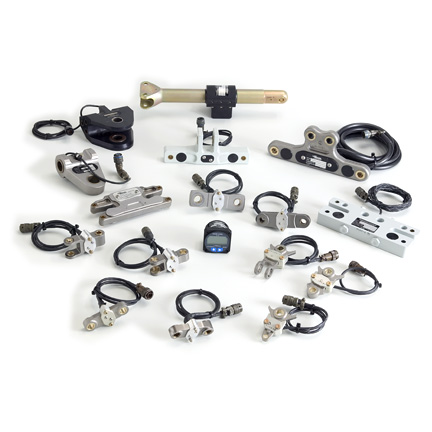 An Onboard standard for more than 40 years, our link-style Onboard Weighing Systems mount on top of the cargo hook lug and are then attached to the aircraft. As with all of our products, we are continuously improving our load cell assembly designs to take advantage of new technologies and safety enhancements. Some of the most recent link-style load cell enhancements include:
Stainless Steel Body — For improved corrosion resistance in a wide variety of working environments.
Improved Sealant — Offers better protection for sensitive electrical gauges.
Removable Bushings — Easy-to-replace bushings have been incorporated into both attach points of the load link to extend the usable life of the system.
Improved Electrical Harness — The external electrical harness has been upgraded to the more rugged M27500 series wire. We've also redesigned the strain reliefs for increased life of the cable.
When it's time to send your older-style load cell in for overhaul, ask about our Load Cell Trade-In Program so you can take advantage of these improvements at a discounted price.
Pin Load Cells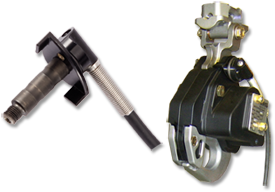 Onboard Systems is always looking for ways to improve our products and services by harnessing new advances in technologies and processes. In 2009, we launched our revolutionary pin load cell technology with the Bell 407 Fixed Beam Suspension System. Since then it has become our new standard for Onboard Weighing Systems and is now in use on a wide variety of cargo hook kits.
Pin load cells are designed to mount on one side of the hook by replacing the main attach bolt, rather than attaching as a separate link above the hook. This allows for increased ground clearance, easier cable routing and lower weight, while still allowing the pilot to know the exact weight of the load on the cargo hook to maximize load efficiency while reducing airframe stress. This exciting advance in load weigh technology offers many benefits, including:
Increased Ground Clearance — Mounts to one side of the hook by replacing the connecting bolt, rather than attaching as a separate link above the hook.
Easier Cable Routing — Can be easily routed with the electrical cable.
Lower Weight — The pin load cell has a small profile and weighs just a few ounces. Since it replaces the connecting bolt, installing a pin load cell results in a negligible weight gain.
Electronic Cockpit Indicator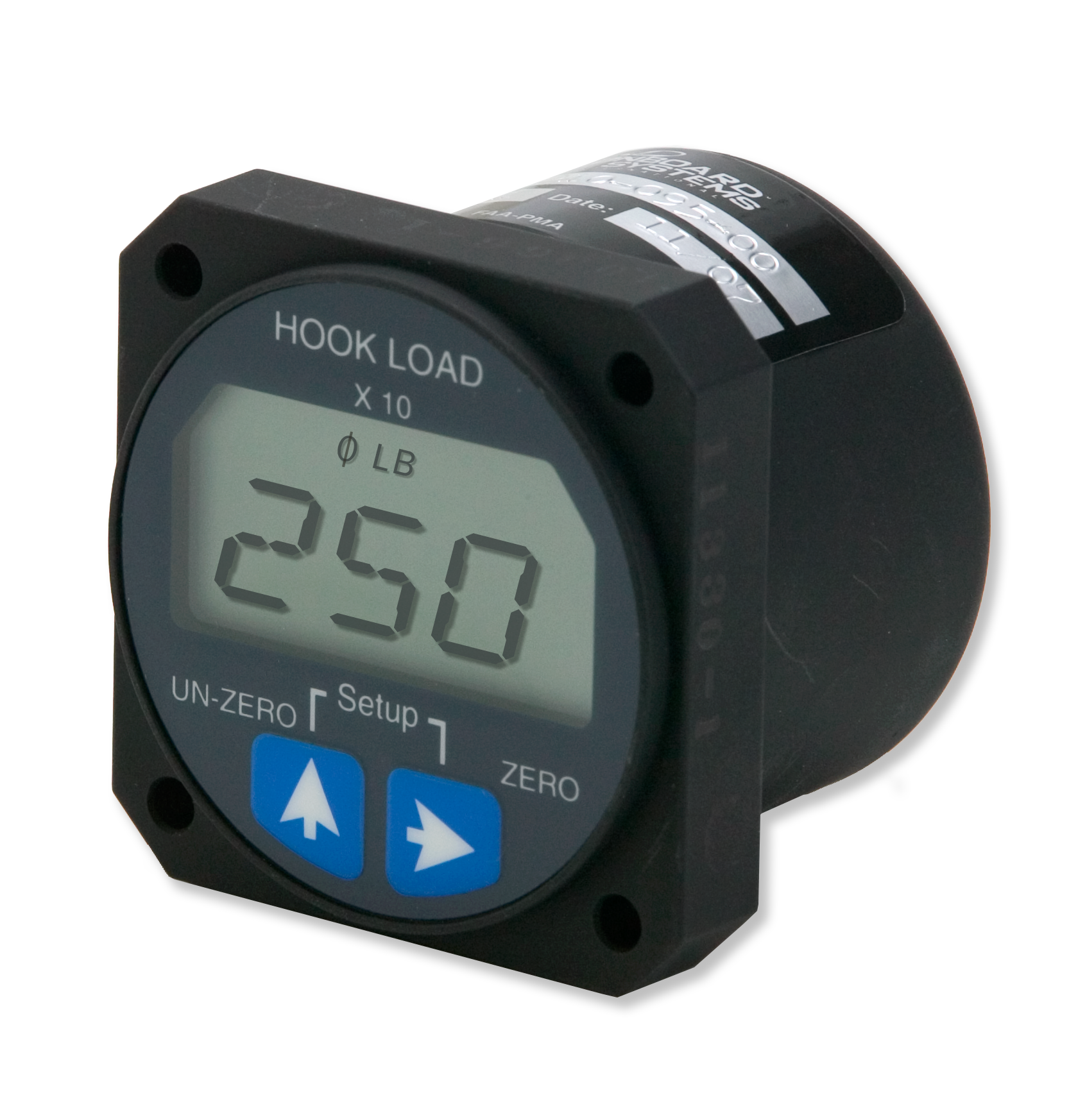 C-39 Cockpit Indicator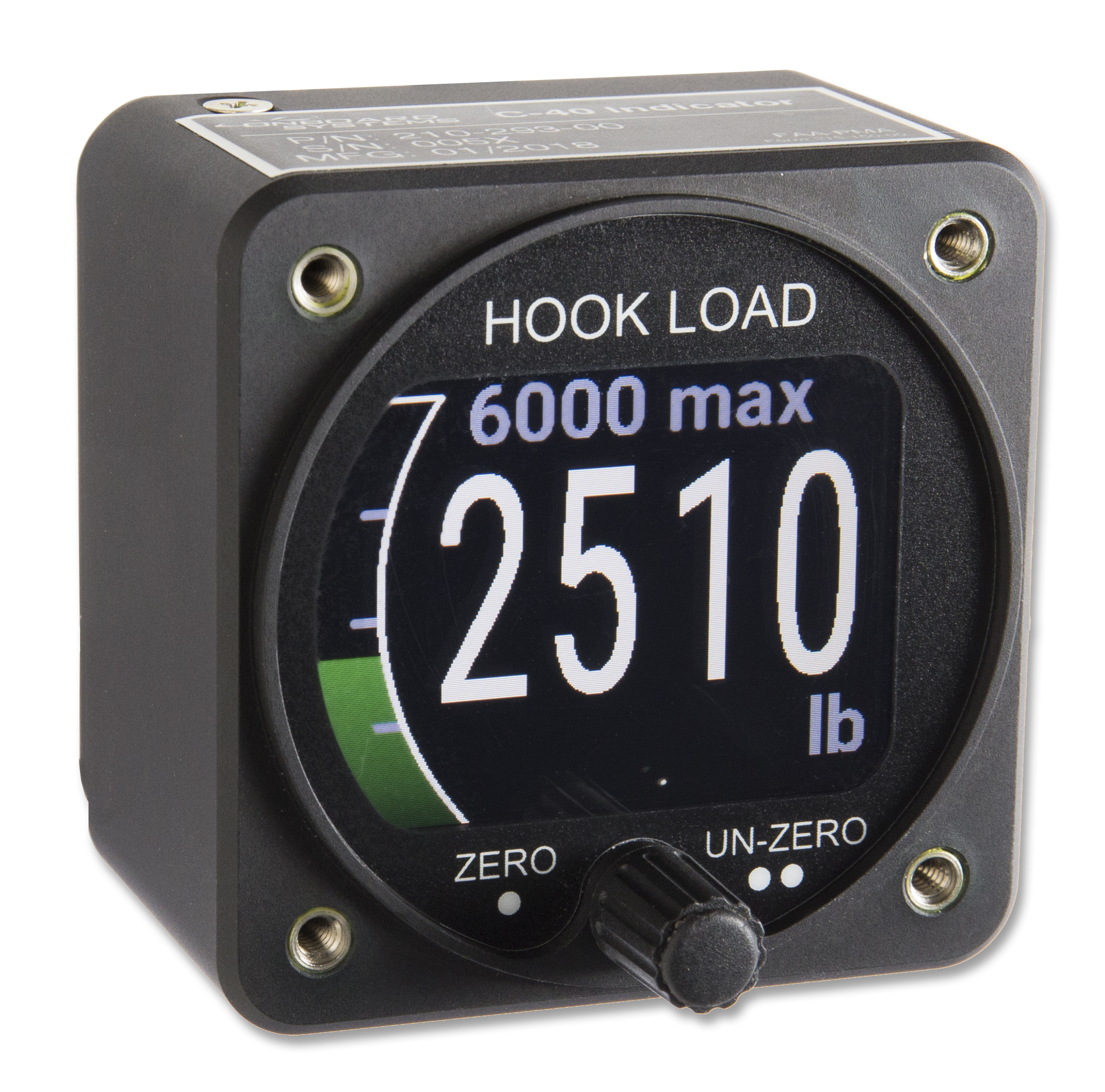 C-40 Cockpit Indicator
The cockpit indicator is a key component of the Onboard Weighing System and provides precision load readouts at a glance. Environmentally sealed against moisture damage, Onboard's indicators use advanced microcontroller technology to measure and display the cargo hook load to the pilot. The C-39 model has been our cockpit indicator standard for many years, and thousands of units are in daily operation in a variety of helicopters. Our new C-40 model builds on the legacy of its predecessor and has been designed from the ground up to incorporate operator-requested features using advanced microcontroller technology to measure and display the cargo weight.
Digital Readouts in the Cockpit — Provides a clear, backlit, easy-to-read digital weight readout in pounds or kilograms. Easy to operate without increasing pilot workload.
Mounts in the Cockpit — Mounts in standard 2-1/4" instrument hole or other location convenient to the pilot. Environmentally sealed for moisture resistance and long life.
Backlighting & Display Options — Available with both 5 VDC and 24 VDC backlighting. Ten levels of display damping. Optional NVG backlighting is also available.
Easy System Calibration — Calibrate your Onboard Weighing System by simply lifting a known weight.
Scaleable Analog Output — Built-in 0-5 volt output can be used to feed data to a variety of Helicopter Flight Data Monitoring (HFDM) devices (such as a Hobbs meter, Latitude, or Flightcell data recorder, etc.). Signal can be used to alert the pilot if a load is on the hook or provide load weight information to a data tracking or GPS system.
Analog Slave Meter Increases Productivity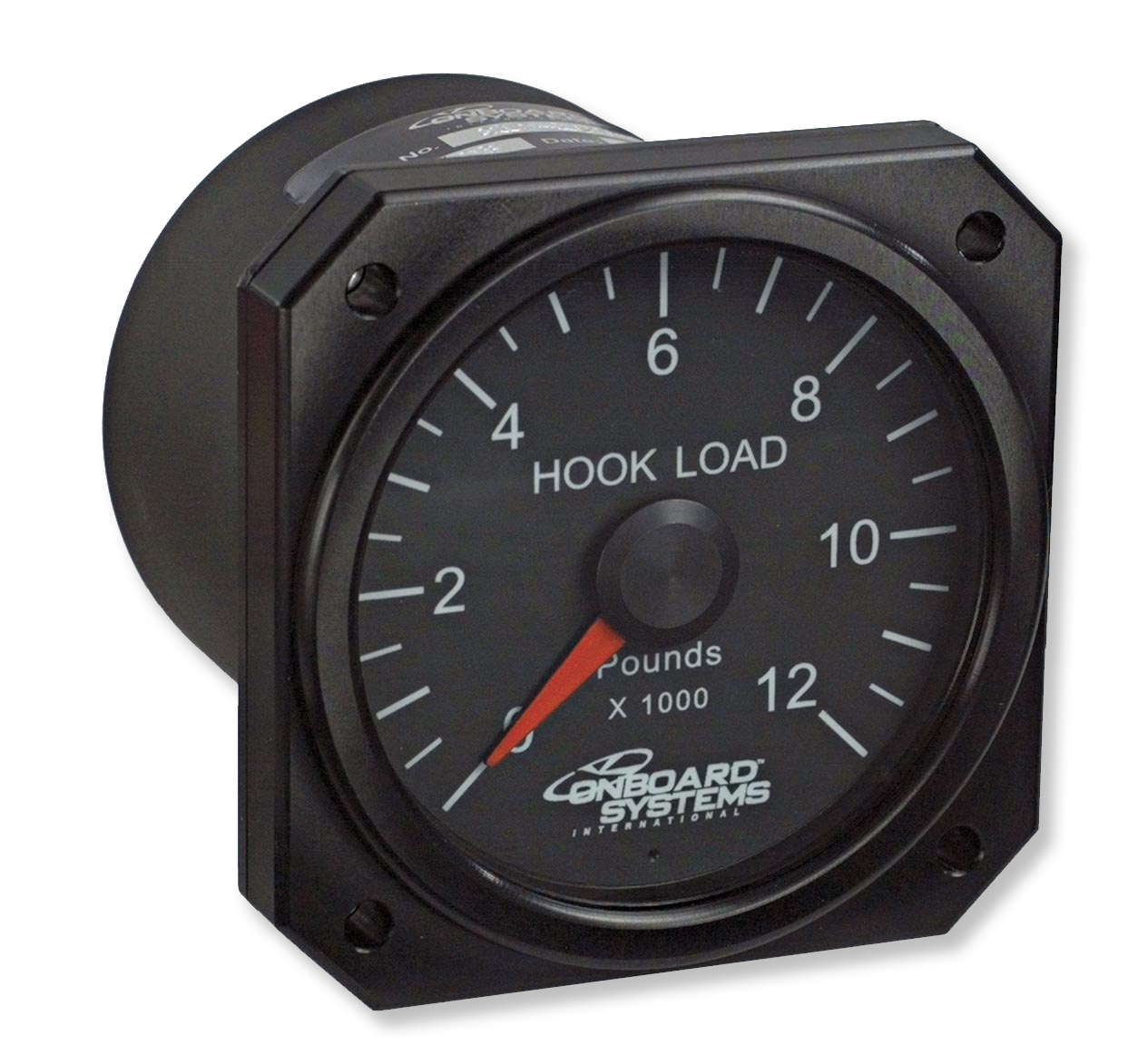 Sometimes, the intuitive, "at-a-glance" visual feedback of an analog meter does the job even better than a digital readout, so why not have both in your cockpit during external load operations? Onboard's optional Analog Slave Meter provides a highly accurate secondary display without needle bounce. The large dial and steady needle offers quick and accurate load reading. Our analog meter is compatible with all Onboard Weighing Systems.
Easy-to-Read Analog Dial — Stepper motor design keeps the needle stable and steady for accurate readout.
Environmentally Sealed — For moisture resistance and long life.
Mounts Almost Anywhere — Meter mounts in a standard 3-1/8" instrument hole or other convenient location.
Pound or Kilogram Dial Faces — Dials available in either pounds or kilograms in a wide range of scales.
| Aircraft | Part Number | Model | Comments |
| --- | --- | --- | --- |
| Airbus Helicopters BK117 | 200-062-01 | E-74 | For use with Siren hook only |
| Airbus Helicopters SA315B | 200-036-01 | E-48 | For Onboard Systems or ERC hook (H-Frame) |
| Airbus Helicopters SA315B | 200-038-01 | E-48 | For Onboard Systems or Siren Hook (Swing Frame) |
| Airbus Helicopters SA330 Puma | 200-010-00 | E-53 | |
| Airbus Helicopters SA332 | 200-012-00 | E-54 | AS332C, AS332C1, AS332L, and AS332L1 models |
| Airbus Helicopters H125 (AS350) | 200-295-00 | E-69 | For any Airbus AS350 sling system, as well as AS350 B2 or earlier Airbus-manufactured swing systems |
| Airbus Helicopters H125 (AS350) | 200-310-00 | E-86 | For AS350 B3, B3e, and H125 swing with Airbus-manufactured suspension system |
| Bell 204, 205, 212 & 412 | 200-044-01 | E-47B | For Bell-manufactured two-channel rotating suspension system |
| Bell 204, 205, 212 & 412 | 200-151-01 | E-77 | For Onboard Systems suspension system |
| Bell 206 A&B | 200-042-01 | E-45 | For Bell-manufactured suspension system |
| Bell 206L & Bell 407 | 200-040-04 | E-72 | For use on aircraft with Bell Open Beam suspension system |
| Bell 206L & Bell 407 | 200-245-00 | E-85 | For Onboard Systems Enclosed Trolley Beam System |
| Bell 407 | 200-331-00 | E-87 | For Onboard Systems Fixed Beam suspension system with mechanical hook |
| Bell 407 | 200-400-00 | E-90 | For Onboard Systems Fixed Beam suspension system with hydraulic hook |
| Bell 214 | 200-152-00 | E-62 | |
| Bell 222 | 200-014-00 | E-73 | |
| Leonardo Helicopters AW109/AW119 | 200-357-00 | E-88 | For Onboard Systems suspension system |
| MD500 Series | 200-034-01 | E-51 | For use with Onboard Systems or OEM hardpoint with mechanical hook |
| MD500 Series | 200-383-00 | E-89 | For use with Onboard hard point 200-231-02 and hydraulic hook |
| MD600 | 200-034-02 | E-51 | |
| Robinson R44 Raven II | 200-340-00 | E-83 | For Robinson R44 and Raven II helicopters with 28V systems |
| Robinson R66 | 200-382-00 | E-91 | Certified for use only with Onboard Systems R66 Cargo Hook Kits |
| Sikorsky S-55/S-58 | 200-080-00 | E-46 | |
| Sikorsky S-61 | 200-243-01 | E-84 | |
| Sikorsky UH-60 Blackhawk | 200-439-00 | E-92 | For Onboard Systems Cargo Hooks |