HEC Kit for the MD500 Series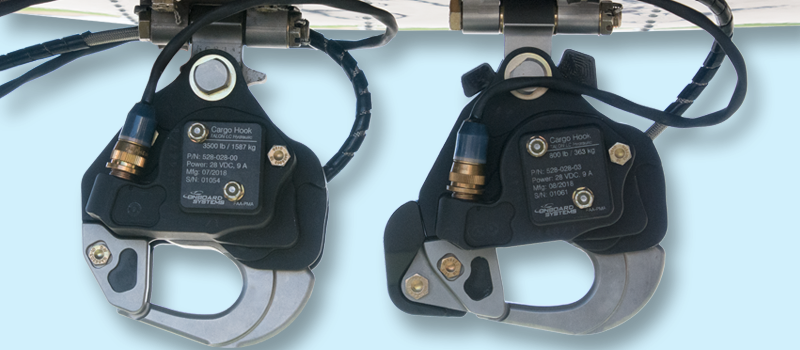 HEC transport requires the use of an Onboard Systems Y-rope (P/N 490-014-00, sold separately) attached to both the primary and secondary cargo hook.
Onboard Systems' Human External Cargo (HEC) hook kit for the MD500 aircraft series is built around a dual installation of our TALON® LC Hydraulic Hook. This kit provides an STC-certified solution for a variety of CFR Part 133 external load missions, including HEC, high-value cargo transport, utility line work, short haul, and search & rescue. Our kit is a complete dual-hook solution that comes with everything you'll need to upgrade your aircraft to a dual cargo hook system, including primary and secondary cargo hooks, attach point fittings, master and slave cylinders, external electrical release harnesses, and hardware. This cargo hook system meets the 14 CFR part 27 certification requirements for Human External Cargo (HEC).
The kit features a user-friendly dual master cylinder that combines the backup hydraulic release for both hooks along with the electrical release for the secondary hook into a single unit. In addition, the kit provides operators the opportunity to transport valuable cargo loads With the Y-rope attached to both cargo hooks, the dual cargo hook system load limit is 800 lb. (363 kg) for both HEC and non-HEC (NHEC) missions. When an NHEC load is attached to only the primary cargo hook, the load limit is 2,000 lb. (907 kg).
Helpful Accessories
Our longline kits for HEC missions include many essential components for properly rigging your aircraft to carry human external cargo, including the Y-Rope, a rigging plate, longline, weight bag, lanyard, and carabiners.
HEC Longlines — We offer high-performance LCP Fiber Rope HEC longlines that can be ordered in custom lengths to suit your mission needs. These longlines are fabricated using Vectran® LCP (liquid crystal polymer) synthetic fiber yarns to provide greater heat resistance as compared to HMPE fiber ropes. These super-strong and ultra-light ropes are treated with a polyurethane coating to resist abrasion and UV degradation and come with heavy duty nylon covers to protect the rope structure from dirt, grit, and grime.

Y-Rope for MD500 Dual Cargo Hook Kit — The Y-rope is required when conducting human external cargo (HEC) missions using our MD500 Dual Cargo Hook Kit. It provides a controlled interface between the two cargo hooks and the longline (P/N: 490-014-00)

HEC Rigging Plate — Our rigging plate helps you manage distribution of up to five separate loads for connecting multiple lanyards during your mission. Four of the holes are rated up to 310 lb. each, while the center lug is rated for up to 800 lb. Any combination of loads may be applied through the lower five holes as long as the 310 lb. load is not exceeded when using each of the side holes and the 800 lb. overall limit is not exceeded. (P/N: 292-017-00)

Longline Weight Bag —Onboard's HEC cargo hook kits require a minimum of 10 lb. of weight on the lower end of the long line to minimize risk of an unloaded long line trailing into the tail rotor. Our 25 lb. longline weight bag fulfills this requirement and provides stability and higher visibility to help position the long line above a target. Made from durable Cordura® nylon fabric for strength and weather resistance, it connects to the bottom of the long line with nylon armor webbing straps, a zipper, and multiple Velcro closures. (P/N: 490-017-00)

HEC Lanyard — Our HEC lanyard provides a locking snap hook at one end to connect to one of the lower Rigging Plate holes, and two locking snap hooks at the other end to connect to a human harness. Multiple lanyards may be connected to the Rigging Plate as required. ( P/N: 490-018-00)

3-Way Locking 1/2" Steel D Carabiner — Our HEC carabiner features a triple action, three-way auto-locking for added safety to prevent accidental opening of the gate. With an MBS rating of 72kN, it exceeds every standard it's built for and is popular among firefighters and professionals, alike, thanks to its ANSI (American National Standards Institute) and CSA (Canadian Standards Association) certification. (P/N 530-031-00)
Contact us for more information.