ONBOARD WEIGHING
SYSTEMS
Increase productivity, safety, and accurate reporting with digitally-precise Onboard Weighing Systems. Thousands of operators around the world depend on these systems to weigh their external loads. Each system integrates seamlessly with an Onboard Systems Cargo Hook Kit and can be installed on most popular utility helicopters using existing hooks. Lift with confidence every time while you increase average loads and improve operational efficiency!
How it Works
A glance at the cockpit-mounted indicator tells the pilot the weight of the cargo on the hook within 10 LB/KG. This is measured through an electronic load cell, using strain-gauge technology. The cell is temperature compensated and requires little maintenance. Our C-39 Cockpit Indicator displays weight on a large LCD display with backlit digits, and operation couldn't be simpler. The pilot uses two buttons to select desired load dampening, readout units (LB/KG), and load zero. Display mounts in a 2-1/4" hole.
Benefits
Ramp Up Productivity — Eliminates guessing games so you can lift higher average loads safely.
Improve Customer Relations — No more arguments over weight promised or weight transported. You can report accurate statistics on the spot.
Reduce Maintenance Costs — Reduce repairs due to overstress and overload, and keep your aircraft on the job.
Precision Weighing — Digital technology consistently accurate to +/- 1.0%, derived from our highly precise strain-gauge technology.

New! Pin Load Cells
If you've been an Onboard Systems customer for any length of time, you know that we are never content to sit on our laurels. We are always looking for ways to improve our products and services by harnessing new advances in technologies and processes. For 2009, we are pleased to launch our revolutionary "pin load cell" technology on the Bell 407 Fixed Beam Suspension System — and we'll be rolling it out on other systems as well. This exciting advance in load weigh technology offers many benefits, including:
Increased Ground Clearance — Mounts to one side of the hook by replacing the connecting bolt, rather than attaching as a separate link above the hook.
Easier Cable Routing — Can be easily routed with the electrical cable.
Lower Weight — Small profile pin load cell weighs just a few ounces and replaces the existing connecting bolt.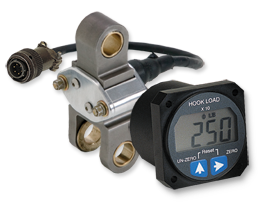 C-39 Electronic Cockpit Indicator
Included with every Onboard Weighing System, our C-39 Electronic Cockpit Indicator gives you clear, backlit, easy-to-read digital weight in pounds or kilograms. Environmentally sealed against moisture damage; may be mounted in any location. Available in 5- or 24-VDC back lighting (NVG option also available). Easy to operate without increasing pilot workload.
Analog Slave Meter
Get a steady look at your load weight with our secondary Analog Slave Meter! At-a-glance visual feedback of your external load – without needle bounce! Large dial and steady needle for quick, accurate load reading. Reliable, stepper motor-driven meter compatible with all Onboard Weighing Systems.
For more information, visit our Onboard Weighing System product page.
Availability
Onboard Weighing Systems are available for the following aircraft models:
Airbus Helicopters AS350 (H125)
Airbus Helicopters AS355
Airbus Helicopters BK117
Airbus Helicopters BO105
Airbus Helicopters EC120
Airbus Helicopters EC130
Airbus Helicopters SA315B
Airbus Helicopters SA330
Bell 204
Bell 205
Bell 206 A&B
Bell 206L
Bell 212
Bell 214
Bell 222
Bell 407
Bell 412
Boeing CH-47
Kaman K-Max
Leonardo Helicopters A109
Leonardo Helicopters A119
Leonardo Helicopters AW101
MD 500 Series
MD 600 Series
Robinson R44
Sikorsky S-58
Sikorsky S-61