Quick Shipment for Remote Hooks & Long Lines
Sunday, June 15, 2008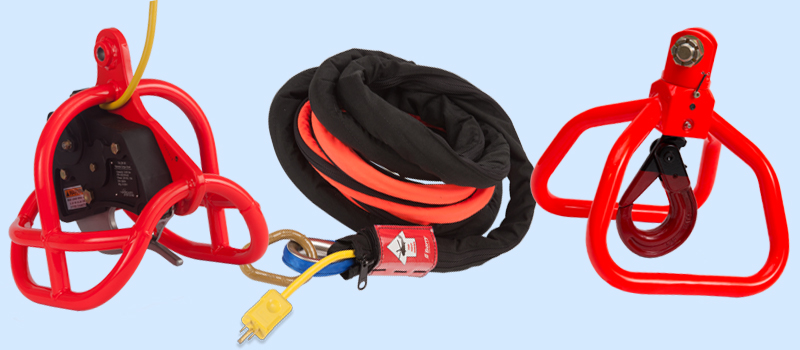 Now you can buy your remote hooks and long lines at the same time! Our standard inventory includes 1/2" (12mm) diameter dressed long lines in 25', 50', 75', 100' & 125' lengths. They come with a protective jacket with an electrical pocket, an electrical cord with connectors, Velcro end covers and a 1/2" pear ring and are ready for immediate "plug & play" operation.
These products can be drop-shipped to your hangar or work site along with your remote hook order, making it faster and easier to take on new contracts. Custom sizes and configurations are also available, as well as cargo nets. Contact us for more information.
3K & 6K Remote Hooks
Our engineers worked hard to overcome the shortcomings in other long line hooks, so our TALON® Remote Hooks offer large throats, optimized flight characteristics for less sway, a single, integrated cargo hook and protective cage and a rugged, highly visible powder coat. They can drop loads as light as ten ounces, and are designed to be easily serviced in the field with simple hand tools. That's why they have proven to be as popular with ground crews as they are with pilots! Click here for more information.
Carousel Cargo Hooks
Our carousel cargo hook is the one on which to standardize your carousel. It's sturdy and robust, built to provide years of trouble free service, and the keeperless design allows for easy, one-handed loading and can safely handle a wide variety of load ring sizes and styles. The unique load beam remains open after cargo is jettisoned, providing a large target for the loader, and it stays locked even when going through trees. Best of all, our hook opens under zero load, eliminating light load hang-ups on the load beam. Pilots report that they don't have to waste time over the drop point trying to get the rigging to fall from the hook. Click here for more information.
---
Tags
longlines
remote hooks
vol5-iss3
remote equipment