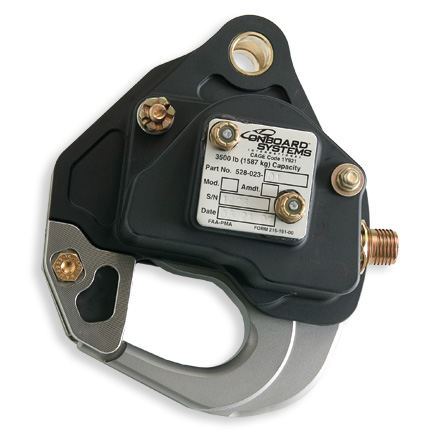 Specifications
Part Number

200-264-01

Design Load

2,000 lb. (907 kg)

Unit Weight

4.8 lb. (2.18 kg)

Typical Overhaul

5 years/1,000 hours
MD500 Series
TALON LC Keeperless Cargo Hook Kit
Product Number: 200-264-01
Call to confirm availability
Reduce ongoing maintenance costs with Onboard's reliable cargo hook kits for MD aircraft. Our cargo hook kits can be installed on new aircraft or used to upgrade older equipment with all the latest safety and design innovations. Onboard's cargo hook kits are OEM approved and are also a factory option for new aircraft. They include a TALON LC Hydraulic cargo hook and hydraulic release cable. If your helicopter has not been previously equipped with a hook, a hook attach point is also available for purchase, as well as an optional Onboard Weighing System.
NOTE: Approved for replacement installation for the Breeze-Eastern P/N 17149-4 and MD Helicopters P/N 369H92105-501 cargo hook assemblies
View Manuals, Certifications, and Hardware Notes
Send Me A Quote
Add to Cart
Benefits
Easy Field Installation:

Available in easy-to-install kits for new installation or replacement of existing hook equipment.

Easy Maintenance & Overhaul:

Onboard cargo hooks can be overhauled in the field, at our factory, or by a qualified repair facility using simple hand tools. Quick parts availability minimizes downtime!

Low Maintenance Costs:

Maintenance costs for Onboard cargo hooks are typically five to ten times less expensive when compared to other cargo hooks on the market.

Cargo Hook Attach Point:

Available for aircraft not previously equipped with a hook.

Optional Onboard Weighing System:

Allows pilots to instantly know the cargo weight on the hook. Reduces the risk of overload airframe stress and helps the pilot make more informed aircraft loading decisions.

The Onboard Advantage:

Our cargo hook kits can be installed on new or existing aircraft using standard hand tools. Time between overhauls is five years or 1,000 operating hours. And because Onboard Systems maintains a large inventory of cargo hook kits and spare parts, we can usually ship your order out quickly.

Complete Kit:

Includes the cargo hook, attach point, manual and electrical release cable, plus optional Onboard Weighing System.

Two Hook Options:

Available with the TALON LC Keeperless or the TALON LC Hydraulic Cargo Hook.

Release Safety:

Onboard cargo hooks are designed to release 2.5 times rated load. In an emergency situation, such as a longline snag, Onboard hooks give pilots a significant margin of safety in which to release the cargo load.

Standard Time Between Overhauls:

Standard time between overhauls is five years or 1,000 operating hours for all TALON hooks.

Best Availability, Pricing & Support:

Compare our prices & features against other cargo hook manufacturers and you'll see that Onboard Systems provides the best overall value. We stand behind every order with attentive customer support, backed by field- and hangar-experienced A&P mechanics.