Overhaul Kits Make Overhauls Easy
Monday, November 15, 2010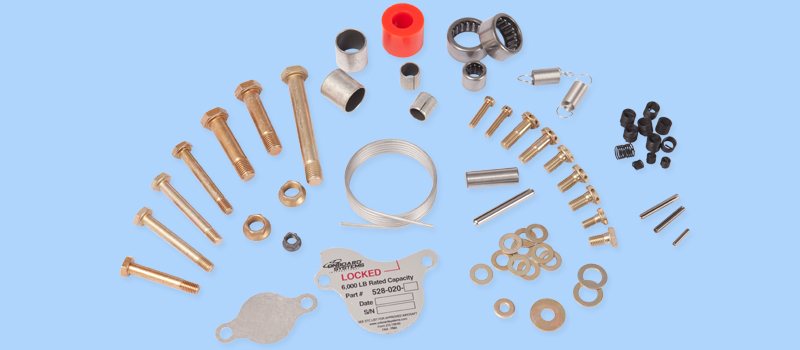 Onboard Systems operates a certified repair station so that we can service, repair and overhaul the equipment we manufacture. However, one of the many benefits you get with our cargo hook equipment is that our hooks are easy to overhaul — all parts of our hooks are field serviceable with simple hand tools.
The most complicated part of the overhaul process is having to individually identify and order an assortment of replacement nuts, bolts, springs, washers, bushings, bearings, cotter pins and other small parts — and that's where our Overhaul Kits can help.
Our Overhaul Kits contain all of the parts and components used by our own factory technicians when they perform a standard factory overhaul on hooks that are sent in for service. Now you can simply place an order for a single part number and receive all the components needed to perform a standard cargo hook overhaul.
Once you have your Overhaul Kit, simply follow the instructions in your service manual, disassemble your hook and perform an inspection of all the parts and components as discussed in the service manual. Parts that show wear as defined in the service manual will need to be replaced; parts that meet the inspection standards can be cleaned and reassembled. Any unneeded parts can be stored in the Overhaul Kit's convenient zip-lock bag.
In addition to the speed and convenience these kits offer, we've priced them at a discount compared to ordering each of the included components individually. These kits will greatly simplify the overhaul process while saving you time and money.
For a list of overhaul kits available, please click here.
For a list of service manuals, please click here.
---
Tags
vol7-iss4
overhaul kits