Greater Load Security with Hydraulic Cargo Hook Technology
Tuesday, June 15, 2010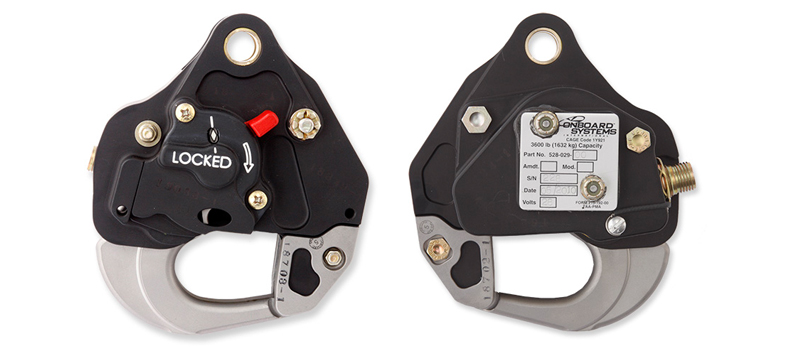 In 2006, Onboard introduced its first TALON LC Hydraulic Cargo Hook system, which uses a hydraulically activated release mechanism that takes the place of a standard manual release cable. The new system was designed to address ongoing issues with improper rigging of mechanical release cables as reported by operators and discussed at length in an Aviation Management Technical Bulletin from the US Department of the Interior.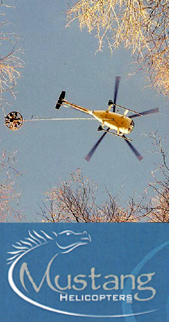 Location: Red Deer, AB Canada
Employees: 60
Helicopters: 23
Aircraft in Fleet:
AS 350 B2
MD 369D
Bell 205
Bell 206 Jet Ranger
Type of Load Work:
Seismic
Fire Fighting
Construction
Aerial Seeding
Drill moves
Bird towing
Description:
Founded in 2001, Mustang Helicopters provides aerial support services to a variety of industries throughout Canada, including Oil & Gas, Mining, Forestry, Emergency Services and general passenger and freight transport.
The hydraulic release cable requires no rigging and can be conveniently routed with the electrical release cable to the cockpit. Furthermore, even if the hydraulic cable gets snagged or hit by the load, the hook remains closed until the pilot activates the release handle. If a mechanical cable gets snagged or hit by the load it can cause the hook to inadvertently open, causing the loss of the cargo.
It's been a few years since Onboard first began selling its hydraulic release cargo hooks, so we decided to touch base with an early adopter of this technological advance, Alin Côté of Mustang Helicopters in Alberta, Canada.
According to Côté, "Most of our external load work is done with long lines — particularly seismic work for the oil and gas industry. We typically use 130-foot long lines and either a carousel or bag picker. In order to be productive with seismic work, the pilots have to sling bags at a pretty good rate of speed, which tends to put a lot of strain on that manual release cable.
"There's a lot of movement on the cargo swing when it's loaded, and we noticed that after a period of time we started to have issues with the end of the cable that goes into the hook. The manual release cable is very stiff, and with the load constantly swinging under the aircraft like that, if there's not enough slack in the line to accommodate the movement, we would have an unexpected load drop."
Extreme temperature conditions also seemed to exacerbate the problem, as most of Mustang's seismic work is done in the winter months, when temperatures can often fall below –35º Celsius. "At those temperatures, the manual release cables tend to stiffen up even more," Côté continued.
When Mustang was expecting delivery of five new AStars, Côté had heard about the new hydraulic hooks that were available. They decided to get them installed on all five aircraft. "The hydraulic release line is so much more flexible and supple than the manual release line, and it doesn't seem to be affected by really cold temperatures," said Côté. "We've had them now for more three years, and they've been very reliable. Each of our aircraft does about 600 hours of sling work a year, and we haven't dropped a single load with the hydraulic hooks. I wish that we could have the hydraulic hooks installed on the rest of our AStars and MD500s."
Another reason Côté likes Onboard's hydraulic hooks is the lower on-going maintenance costs as compared to the non-hydraulic hooks. While hydraulic cargo hook systems cost more up front to acquire, they no longer need to change out the manual release cables, which tend to wear out over time and are costly to replace.
"All in all, they've been fairly maintenance free," said Côtés. "We just do the required inspections and maintenance checks listed in the manuals, so in the long run we've made up the initial cost. But even more importantly, when you compare the difference in initial system cost to the cost of having just one incident, there really is no comparison. The consequences could be devastating, so when you think about it that way you realize it's an easy decision to make."
If you would like more information about Onboard's hydraulic cargo hook systems or our new hydraulic upgrade kits, please give us a call or e-mail us to discuss your specific aircraft needs. While you're at it, don't forget to ask about the trade-in credit we offer when you trade-in your old TALON LC Keeperless Cargo Hook to upgrade to a hydraulic release hook.
---
The Hook is always looking for operator success stories about Onboard's superior cargo hook equipment. If you have a story about external load operations using Onboard's equipment that you'd like to share, please let us know by telling us a little about what you do that is unique, special, or just plain interesting.
---
Tags
vol7-iss2
mustang helicopters
customer spotlight
external loadwork
hydraulic cargo hooks