Dressed Longline Packages now Available
Saturday, September 15, 2007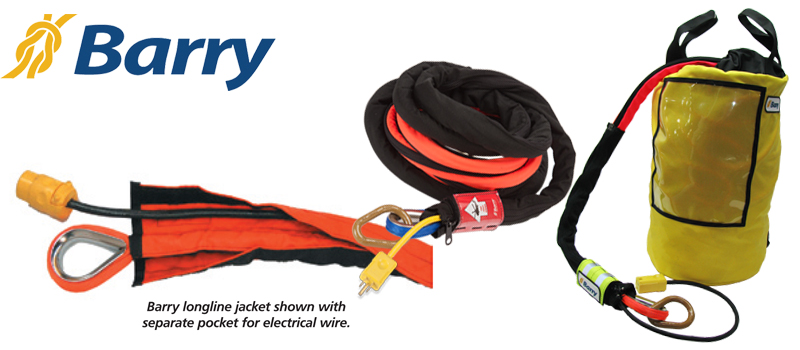 Onboard Systems is an authorized distributor of helicopter longline and cargo net equipment from Barry Cordage, Ltd. Since the time of our original announcement, we've set up some programs for this product that we wanted to share with you.
We are now stocked with fully dressed, 1/2-inch diameter longlines with 4,500 lb. load capacity in 50-ft and 100-ft lengths. These "dressed" longlines are pre-assembled in a UV-resistant jacket with electrical pocket, electrical cord with connectors, zippered end covers, and a 1/2" pear ring. The longline comes with a convenient transport bag with a documentation pocket. They are available for immediate shipment with your cargo hook order, and can even be drop-shipped to the field.
These high-quality longlines are lightweight, strong and competitively priced. They are completely assembled and ready to install on your aircraft on arrival. In addition to the dressed longline packages, we also maintain a selection of cargo nets in stock, so these can also be shipped out with your hook order.
Other configurations, including custom lengths and additional options, can be ordered on request.
We believe that this will prove to be a convenient and economical service for our customers. For more information about purchasing Barry products from Onboard Systems, please review our Barry offerings here.
---
Tags
cargo nets
longlines
barry cordage
vol4-iss4