Shop Talk: Inspection Requirements for Other Equipment
Friday, September 14, 2018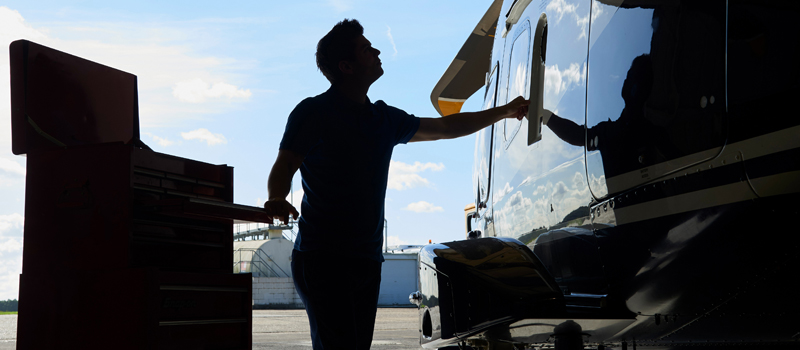 While many operators are familiar with the on-going inspection and service requirements for their cargo hooks, they may not be as familiar with inspection requirements for other related equipment, such as suspension systems, hydraulic release handles, and electric swivels.
In some cases, these parts have the same inspection and service schedules as the cargo hook, but in others, service requirements are based on condition. It is important for operators to know which manuals to consult regarding inspection and service requirements so that these schedules can be added to the service calendar. All product documentation can be found on our website and downloaded as needed.
Suspension System and Swing Frame Maintenance
Suspension system components are subject to periodic inspections and maintenance/lubrication service as described in the Owner's Manual or the ICA manual. Typically, this is an annual inspection, or after performing 100 hours of external load operations, whichever comes first.
Every five years or after 1,000 hours of external load operations, whichever comes first, the suspension assembly must be removed from the aircraft and dissasembled for inspection and lubrication. Worn parts should be replaced, and the load cell should be returned to the factory for calibration and/or service. Overhaul kits are available for suspension system or swing maintenance and contain fasteners, bushings, and other recommended items to be replaced. These are recommended for use during re-assembly of the suspension system.
Hydraulic Release System Maintenance
The hydraulic release system is filled with fluid during installation and does not normally consume fluid unless it leaks out. If any leakage is detected during use, the fluid level should be immediately checked by following the instructions in the ICA Manual.
Swivel Maintenance
Electric swivel inspection and maintenence schedules can be found in the Owner's Manual. Swivels require annual inspections (or after performing 100 hours external load operations, whichever comes first), as well as five year/1,000 hour inspections, which require dissambly of the swivel to perform. In addition, electric swivels benefit from periodic lubrication of the ball bearings, especially if the rotation of the swivel does not feel smooth or rotate as freely as it once did.
As always, if you have specific questions about inspecting or maintaining your equipment, please contact us.
---
Tags
vol15-iss3
other equipment maintenance
shop talk