Airbus Helicopters H120 (EC120) Cargo Hook Suspension System
Onboard Systems has developed a hydraulic cargo hook suspension system for the Airbus H120 (EC120) aircraft, which has been certified by the FAA, Transport Canada, and EASA. The kit was developed in response to customers seeking an improved alternative to the OEM cargo hook equipment. In addition to the hydraulic release, the new kit features a bumper ring and built-in travel limits to protect the hook and control cables from damage. The integrated weighing system improves safety, increases productivity and decreases repairs due to overstress and overload. The adjustable structural support cable allows for precise length adjustment to ensure balanced load sharing throughout the aircraft. The kit also offers improved ground clearance and all parts needed for complete installation.
Eliminates the common causes for inadvertent releases
Recently, Onboard Systems has pioneered and developed hydraulic technology to serve as the emergency release for a number of critical reasons. The United States Department of the Interior Aviation Management released a technical bulletin dated July 16, 2004 that outlined common safety issues involved in inadvertent cargo hook releases. Their major findings were:
Cables must be rigged to very exact specifications each time the hook is installed on the aircraft
Cables are prone to damage that can cause a load release
The Onboard hydraulic release mechanism consists of a small, self-contained hydraulic reservoir that is used to open the hook. It does not use any hydraulic power from the aircraft. The hydraulic release is activated with a cabin-mounted lever that incorporates a compact master cylinder. A slave cylinder integrated in the cargo hook interfaces with the release mechanism.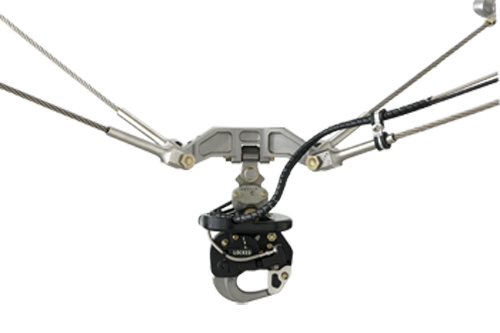 System Advantages
The hydraulic release offers significant advantages for installation, maintenance and operation:
Installation — Manual "push-pull" cable release systems need to be installed with very precise limits in order to make sure the system performs properly. A mistake one way could prevent the system from opening the hook; a mistake the other way could lead to the system accidentally opening. The nature of the cabled systems requires very large radius bends. The hydraulic system is not subject to any of the tight rigging requirements and can be installed with very tight bends, offering greater flexibility in routing the cable from the hook to the flight controls.
Maintenance — For similar reasons maintenance is simpler with a hydraulic system. A dry-break, quick-disconnect allows the hook system to be removed without any hydraulic fluid loss or need to bleed the complete system.
Operation — If a mechanical cable gets snagged or hit by the load it can inadvertently open the hook causing the loss of the cargo. The hydraulic system will only open the hook when the pilot activates the release handle — snagging or damage to the cable will not lead to accidentally dropping the cargo.
For more information, please visit our Airbus H120/ EC120 Suspension System product page.