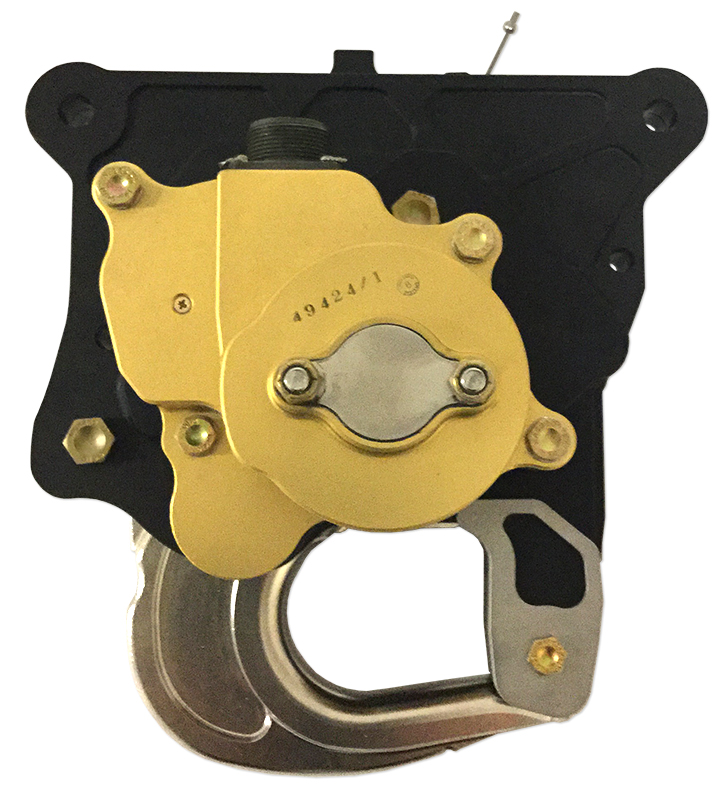 Specifications
Part Number

528-020-12

Design Load

6,000 lb. (2,722 kg)

Ultimate Strength

21,500 lb. (9,752 kg)

Release Capacity

15,000 lb. (6,804 kg)

Minimum Release Load

0 lb. (0 kg)

Unit Weight

12.5 lb. (5.7 kg)
Bell 204, 205, 212 & 412
TALON MC Keeperless Cargo Hook with Surefire
Product Number: 528-020-12
Call to confirm availability
The TALON MC Keeperless cargo hook has been upgraded to include more safety features than other hooks available in this weight class. It now includes a new, highly-visible manual release lever on the side plate (below the bumper ring), and an improved hook-lock indicator. By putting the manual release lever in an easily accessible location, ground crew will be able to quickly open the hook during loading and unloading operations. We've also redesigned the hook-lock indicator to make it easier for the ground crew to quickly verify that the hook is securely locked after loading. Best of all, we've added our new Surefire release technology to this hook for greater load safety.
View Manuals, Certifications, and Hardware Notes
Benefits
Surefire® Release Technology:An integrated electronic circuit is added inside the cargo hook to provide about a half-second delay from when the electrical release button is pressed until the hook opens. This helps guard against inadvertent releases by requiring a firm, half-second press of the hook release button.

Easy Field Installation:

Available in easy-to-install kits for new installation or replacement of existing hook equipment.

Easy Maintenance & Overhaul:

Onboard cargo hooks can be overhauled in the field, at our factory, or by a qualified repair facility using simple hand tools. Quick parts availability minimizes downtime!

Nickel Plated Carbon Steel Load Beam:

We've upgraded the load beam material from stainless steel to nickel plated carbon steel for greater durability. The new load beam is harder and resists wear and tear from frequent use for heavy loads.

Keeperless Cargo Hook:

Spring-loaded keepered hooks require a specific size load ring to ensure it won't work its way around the keeper, resulting in a dropped load. That's why Onboard replaced the cargo hook keeper mechanism with a uniquely secure load beam system. Since there's no keeper, a wide variety of load ring sizes and styles can be safely used without worrying about inadvertent load loss.

Release Safety:

Onboard cargo hooks are designed to release 2.5 times rated load. In an emergency situation, such as a longline snag, Onboard hooks give pilots a significant margin of safety in which to release the cargo load.

The Onboard Advantage:

Our cargo hook kits can be installed on new or existing aircraft using standard hand tools. Time between overhauls is five years or 1,000 operating hours. And because Onboard Systems maintains a large inventory of cargo hook kits and spare parts, we can usually ship your order out quickly.