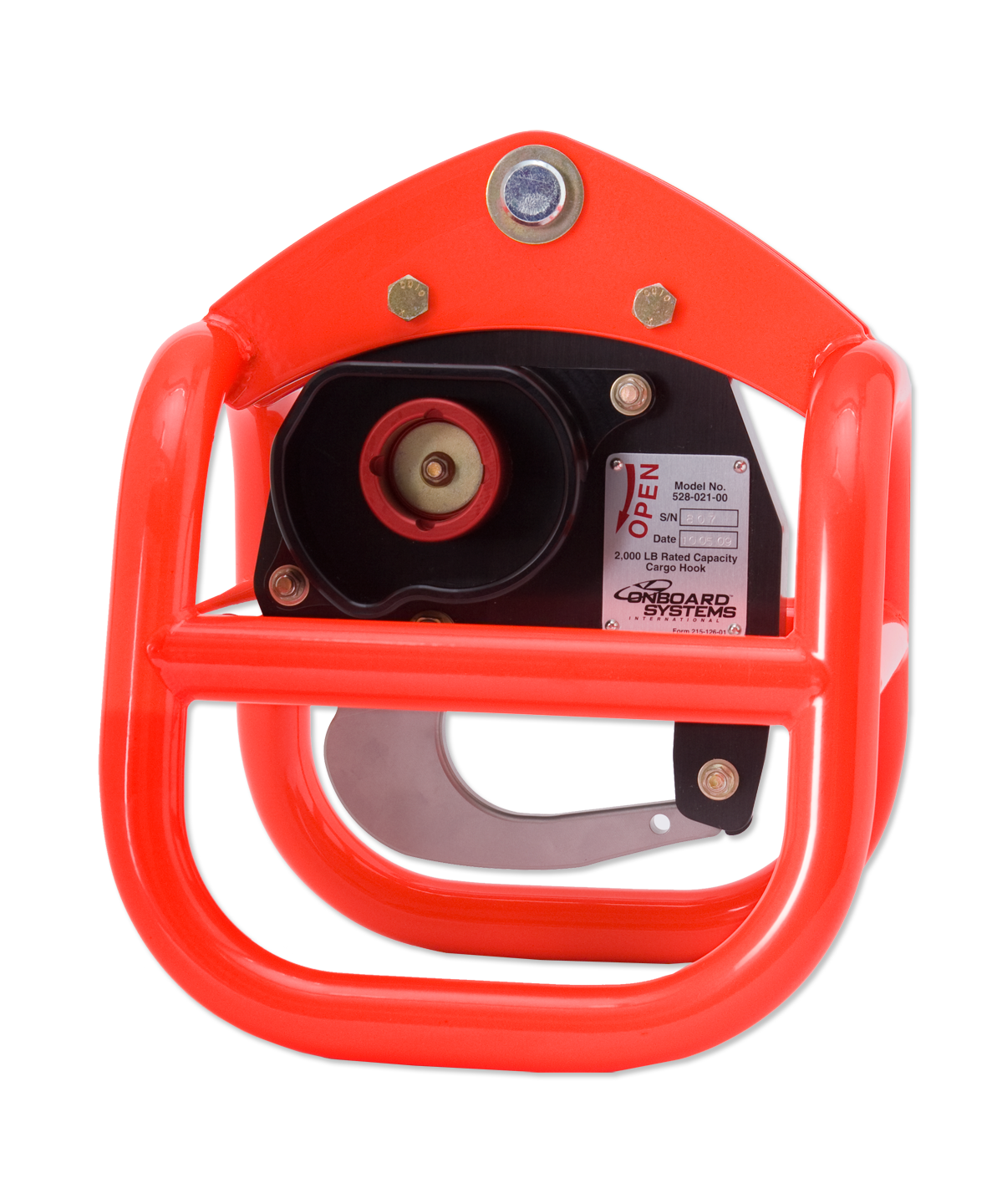 Benefits
Lightweight Remote Hook:

Entire assembly weighs less than 16 lb. (7.3 kg.).

Durable, High-Visibility Finish:

Stands up to years of duty in the field.

Easily Drop Light Loads:

Keep light loads from hanging up with a hook whose load beam opens to almost 90°, even with the lightest of loads.

Brush Guard for Increased Protection:

Our removable brush guard surrounds the manual release knob to help prevent branches and other objects from pushing against the knob and triggering an inadvertent release. Does not interfere with ground crew access to the knob.

Easy, One-Handed Loading:

Unique load beam remains open after cargo is jettisoned, providing a large loading target for ground crews. Simply push the load ring up against the load beam and the hook closes.

Maximum Versatility:

The cage and hook can be disassembled using simple hand tools so the hook can be used separately on a carousel system, as desired.
TALON® 2K Hook:Uses a keeperless hook design that safely handles a wide variety of load ring sizes and styles, while eliminating the possibility of losing a load that inadvertently gets past the keeper.

Easy Maintenance & Overhaul:

Onboard cargo hooks can be overhauled in the field, at our factory, or by a qualified repair facility using simple hand tools. Quick parts availability minimizes downtime!

The Onboard Advantage:

Our cargo hook kits can be installed on new or existing aircraft using standard hand tools. Time between overhauls is five years or 1,000 operating hours. And because Onboard Systems maintains a large inventory of cargo hook kits and spare parts, we can usually ship your order out quickly.

Keeperless Cargo Hook:

Spring-loaded keepered hooks require a specific size load ring to ensure it won't work its way around the keeper, resulting in a dropped load. That's why Onboard replaced the cargo hook keeper mechanism with a uniquely secure load beam system. Since there's no keeper, a wide variety of load ring sizes and styles can be safely used without worrying about inadvertent load loss.