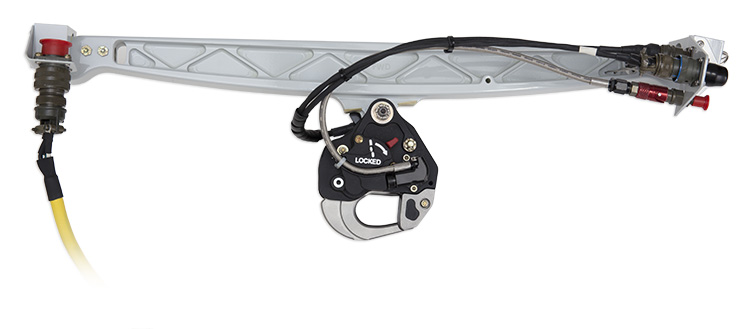 Specifications
Part Number

200-430-00
Bell 505 Jet Ranger X
Cargo Hook Kit with TALON LC Hydraulic Hook
Product Number: 200-430-00
Onboard Systems is developing a cargo hook system for the new Bell 505 Jet Ranger X aircraft that will be built around our safety-forward TALON® LC Hydraulic Cargo Hook. These STC kits will include all of the Onboard exclusive advantages operators have come to expect from our products, such as built-in travel limits, a low profile for maximum ground clearance, as well as an optional Onboard Weighing System and/or Surefire Release Technology.
NOTE: FAA, Transport Canada, and EASA certification pending.
View Manuals, Certifications, and Hardware Notes
Benefits
Hook & Airframe Protection:

Built-in travel limits in forward, aft, and lateral directions prevent damage to aircraft and control cables.

Low Profile:

System is designed to provide excellent ground clearance.

Simple to Remove:

The suspension system is rapidly removable from the aircraft without the use of tools or loose parts to manage.

Onboard Weighing System Option:

Know the exact weight of your load! Our pin load cell replaces the attach bolt, eliminating extra linkage.

Optional Surefire Release Technology:

Cargo hook can be fitted with our Surefire™ technology, which provides about a half-second delay from when the electrical release button is pressed until the hook opens to help guard against inadvertent releases.
TALON® LC Hydraulic Hook:Our hydraulic hook greatly increases load security by using a hydraulically activated release mechanism instead of a traditional manual release cable.

Sign Up & Stay Informed:

Join the information list so that we can provide you with product updates. Click here to sign up.