Onboard Systems Receives 2016 Gold Boeing Performance Excellence Award
Thursday, April 6, 2017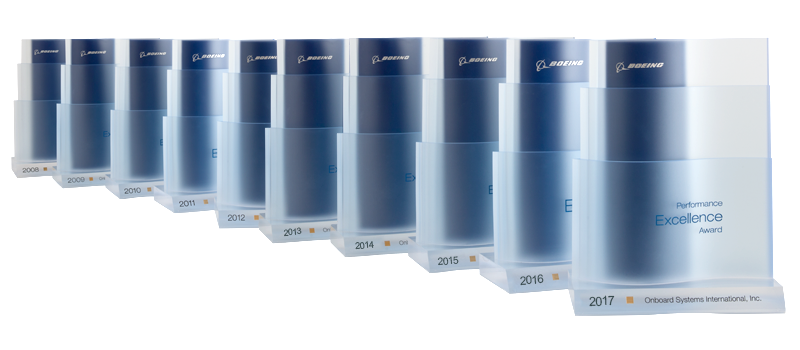 Onboard Systems International, Inc., a leading provider of innovative helicopter cargo hook equipment, today announced it has received a Boeing Performance Excellence Award (BPEA) for quality and on-time delivery for the ninth consecutive year. The Boeing Company issues the award annually to recognize suppliers who have achieved superior performance. Onboard Systems maintained a Gold composite performance rating for each month of the 12-month performance period, from Oct. 1, 2015, to Sept. 30, 2016.
For the year 2016, Boeing recognized 480 suppliers who achieved either a Gold or Silver level Boeing Performance Excellence Award. Onboard Systems is one of only 78 suppliers to receive the Gold level of recognition.
"Onboard Systems is committed to providing our customers with excellent cargo hook equipment and customer service," said Jason Lemmon, President & General Manager of Onboard Systems. "Receiving this kind of recognition from Boeing year after year demonstrates our ability to consistently deliver well-made products in a timely manner, and gives us even more encouragement to keep working hard to meet our customer's goals and objectives."
Onboard Systems supplies external load equipment to Boeing for the V-22 Osprey program. The company has received this BPEA in recognition of its ability to consistently manufacture high-quality cargo hooks and deliver them on time, in accordance to a contracted schedule.
About the Boeing Performance Excellence Award
For more information on the Boeing Performance Excellence Award, visit the Boeing website.