Visit Us at the HAI Aerial Work Safety Conference
Thursday, October 20, 2022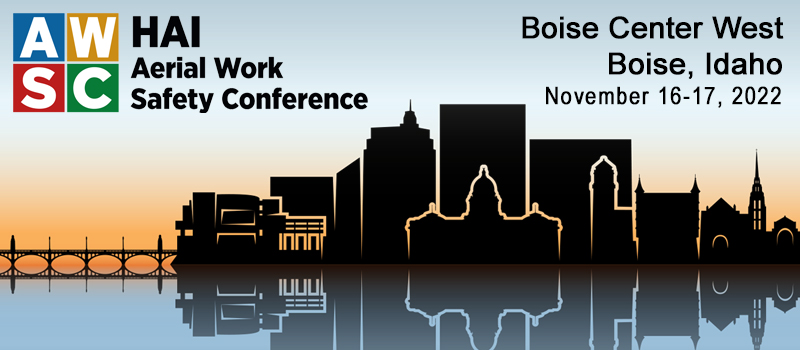 Onboard Systems is one of the sponsors for the HAI Aerial Aerial Work Safety Conference (AWSC) on November 16-17 in Boise, Idaho. We will have a table at the conference where you can view our Sikorsky UH-60 Blackhawk Replacement Cargo Hook Kit, and meet Sergio Gemoets, our Key Accounts Manager, and Brendan Fitzpatrick, our Business Development Manager. If you are attending the conference, we hope you will stop by to say hello and get answers to any questions you may have about Onboard's products and services.
About the Conference
Join us for HAI's Aerial Work Safety Conference 2022 (formerly the HAI Aerial Firefighting Safety Conference) in Boise, Idaho, November 16–17th! We've expanded the popular event's focus this year and are inviting everyone to attend who works in the vertical flight industry's firefighting, utilities, patrol, and construction sectors.
The conference, to be held at Boise Centre West in downtown Boise, will feature safety presentations by both industry and government professionals from the FAA, the US Army, the US Department of the Interior (DOI), the US Forest Service (USFS), and other leading organizations and companies. Attendees will learn about new ideas and technologies as well as have the chance to network with their rotorcraft peers and industry experts.
Day One, Nov. 16, will feature general sessions on topics relevant to all attendees. Please join us at the end of Day One programming for a networking reception, sponsored by Aviation Specialties Unlimited!
Day Two, Nov. 17, will offer morning and afternoon safety sessions, including agency updates from DOI, FAA, and USFS representatives. The afternoon will offer courses in which attendees can earn FAA WINGS credit.
Come to the HAI Aerial Work Safety Conference 2022 and celebrate the aviators who build power grids, patrol power and oil lines, and fight forest fires. We keep society running!
All attendees must register for this event. In order to receive the member rate, please make sure all employees are listed under your organization's HAI corporate membership. Registration closes soon, so don't delay in signing up.
We look forward to seeing you there!
---
Tags
tradeshows