Robinson Raven II Onboard Weighing System
Onboard Systems' innovative pin load cell technology has been incorporated into a new Onboard Weighing System for the Robinson Raven II aircraft. The kit is designed to work with the next generation of cargo hooks kits for the Raven II, which were STC approved in 2008.
Onboard Weighing Systems provide pilots with the exact weight of the load on the cargo hook via a display monitor mounted in the cockpit, allowing them to maximize load efficiency while reducing airframe stress. Pin load cells are designed to mount on one side of the hook by replacing the main attach bolt, rather than attaching as a separate link above the hook. This allows for improved ground clearance, easier cable routing and lower weight.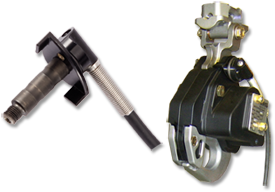 Benefits
Ramp up Productivity— When the pilot knows the exact weight of a load, he doesn't have to err on the side of caution. Onboard Weighing Systems eliminate guessing games, so you can lift higher average loads.
Improve Customer Relations—Put an end to arguments with customers over weight promised or weight transported with immediate, accurate statistics.
Reduce Maintenance Costs—Never make load mistakes or miscalculations again. Your pilots will know the exact load weight every time and can all but eliminate repairs due to overstress and overload.
Digital Readouts in the Cockpit—Our C-39 Electronic Cockpit Indicator provides a clear, backlit, easy-to-read digital weight readout in pounds or kilograms. Easy to operate without increasing pilot workload.
Pinpoint Accuracy—Digital technology in our weighing systems are consistently accurate to +/- 1.0%
Complete Kit & Easy Installation—All necessary hardware is included. Comes with the pin load cell, cockpit indicator and wiring harness.