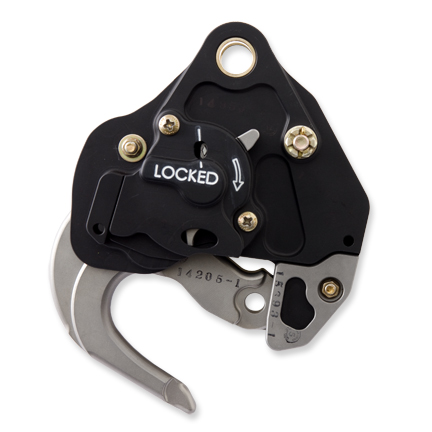 Specifications
Part Number

528-029-01

Design Load

3,600 lb. (1,633 kg)

Ultimate Load

13,500 lb. (6,123 kg)

Release Capacity

9,000 lb. (4,082 kg)

Unit Weight

3.0 lb. (1.36 kg)

Typical Overhaul

5 years/1,000 hours
TALON LC Keeperless Cargo Hook (12 VDC)
Product Number: 528-029-01
Call to confirm availability
We've upped the ante on our signature keeperless design! Our next generation TALON LC Keeperless Cargo Hook is ingenious yet simple—and now features a lock indicator window. To eliminate the risk that a load ring could escape by slipping pass the keeper during operation, we simply removed the keeper and replaced it with a unique load beam system that stays open after the load is jettisoned. Closing is accomplished by pushing upward on the load beam with the rigging (see photo below). Best of all, the keeperless hook design safely handles a wide variety of load ring sizes and styles—and now opens even wider than before!
View Manuals, Certifications, and Hardware Notes
Send Me A Quote
Add to Cart
Benefits
OEM Approved:

Selected and approved by multiple OEM's for factory installation on key aircraft.

Lock Indicator Window:

For added safety, a lock indicator window on the side of the hook gives the ground crew an easy visual signal that the hook is locked.

Wider Mouth Opening:

We've increased the maximum angle of the hook opening to almost 90° for easier loading and unloading.

Internal Redesign:

To simplify maintenance, we've redesigned the internal mechanisms of the the hook. It's never been easier to overhaul your own hook!

Easy Maintenance & Overhaul:

Onboard cargo hooks can be overhauled in the field, at our factory, or by a qualified repair facility using simple hand tools. Quick parts availability minimizes downtime!

Easy Field Installation:

Available in easy-to-install kits for new installation or replacement of existing hook equipment.

Prompt Order Fulfillment:

We maintain a large inventory of complete systems & spares so that we can ship your order quickly.

Release Safety:

Onboard cargo hooks are designed to release 2.5 times rated load. In an emergency situation, such as a longline snag, Onboard hooks give pilots a significant margin of safety in which to release the cargo load.

Best Availability, Pricing & Support:

Compare our prices & features against other cargo hook manufacturers and you'll see that Onboard Systems provides the best overall value. We stand behind every order with attentive customer support, backed by field- and hangar-experienced A&P mechanics.