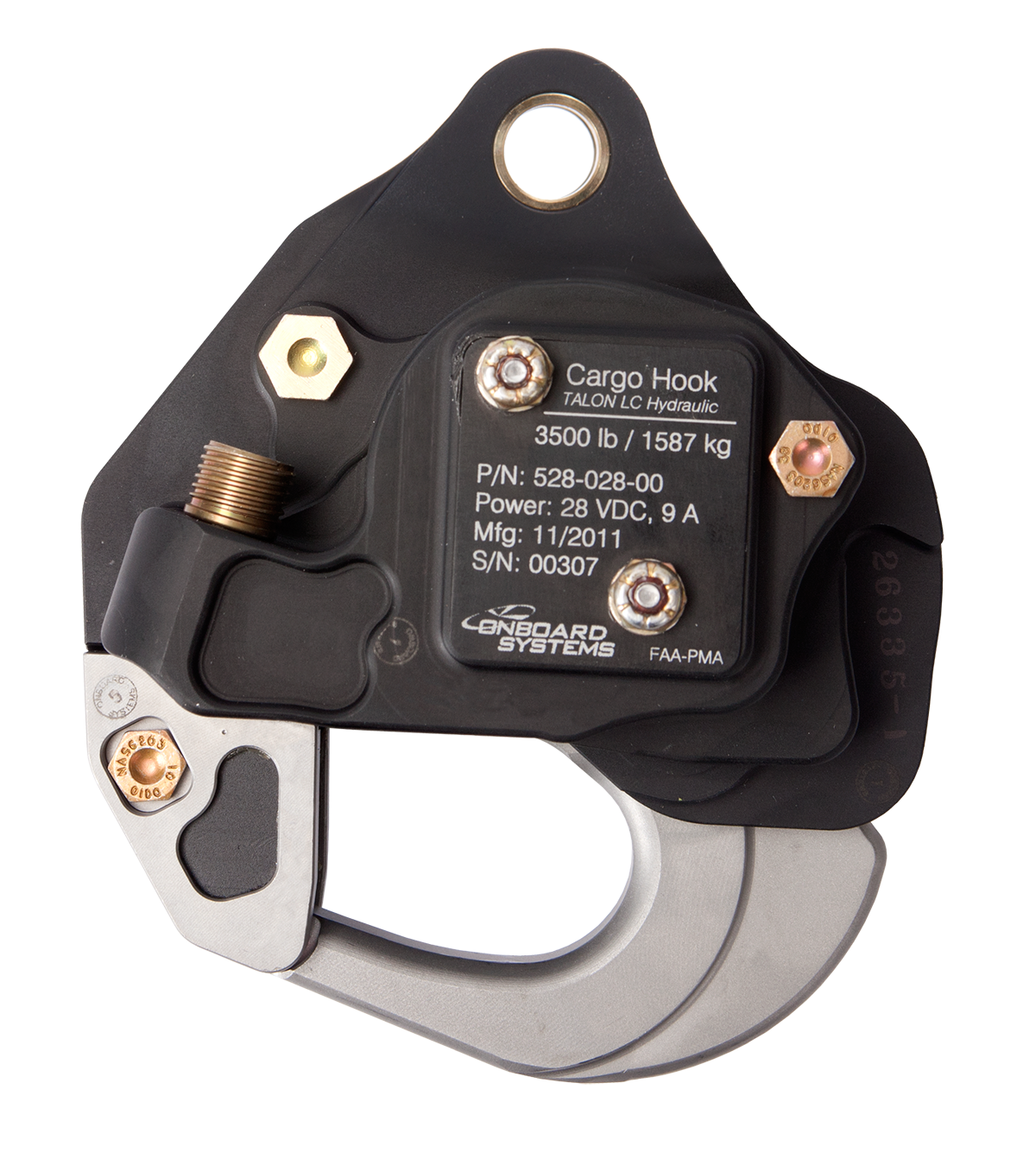 Specifications
Part Number

528-028-55

Design Load

3,600 lb. (1,633 kg)

Minimum Release Load

0 lb. (0 kg)

Unit Weight

3 lb. (1.36 kg)

Typical Overhaul

5 years/1,000 hours
Airbus Helicopters H145 (EC145 T2); Airbus Helicopters EC135
TALON LC Hydraulic Cargo Hook
Product Number: 528-028-55
This TALON LC Hydraulic cargo hook is designed for use with Airbus Helicopters EC145T2 & EC135 Common Beam systems. It greatly increases load security by using a hydraulically activated release mechanism instead of a traditional manual release cable. Manual push-pull cabled release systems need to be installed with very precise limits in order to ensure that the system performs properly.


Unlike existing cable systems, the hydraulic line can be routed with the electrical release cable and is unaffected by movement of the cargo hook. It does not require special rigging — significantly decreasing the chance of an inadvertent load loss due to imprecise rigging.

Another advantage of the hydraulic release system is that it will only open the hook when the pilot activates the release handle. Snagging or damage to the cable will not lead to accidentally dropping the cargo. If a mechanical cable gets snagged or hit by the load, it can inadvertently open the hook — causing the loss of the cargo.
NOTE: Available exclusively through Airbus Helicopters
View Manuals, Certifications, and Hardware Notes
Benefits
No Rigging Requirements:

Onboard's hydraulic cargo hook systems do not require strict rigging procedures each time the system is installed.

Easier Cable Routing:

The hydraulic line is easier to route than a standard manual release cable.

Dry-Break Disconnect:

The hydraulic line can be disconnected without fluid loss or the need to bleed the entire system

Reduced Lifetime System Costs:

Stainless steel, braided hydraulic line is designed to last the life of the system. No more replacing expensive cables every year due to wear and tear!

Compact Hydraulic System:

The hydraulic hook system utilizes a compact master cylinder integrated into the cockpit release handle.

Improved Electrical Connector Position:

The electrical release connector is positioned to protect it from contact with the aircraft and other cargo hook components.

Release Safety:

Onboard cargo hooks are designed to release 2.5 times rated load. In an emergency situation, such as a longline snag, Onboard hooks give pilots a significant margin of safety in which to release the cargo load.

The Onboard Advantage:

Our cargo hook kits can be installed on new or existing aircraft using standard hand tools. Time between overhauls is five years or 1,000 operating hours. And because Onboard Systems maintains a large inventory of cargo hook kits and spare parts, we can usually ship your order out quickly.