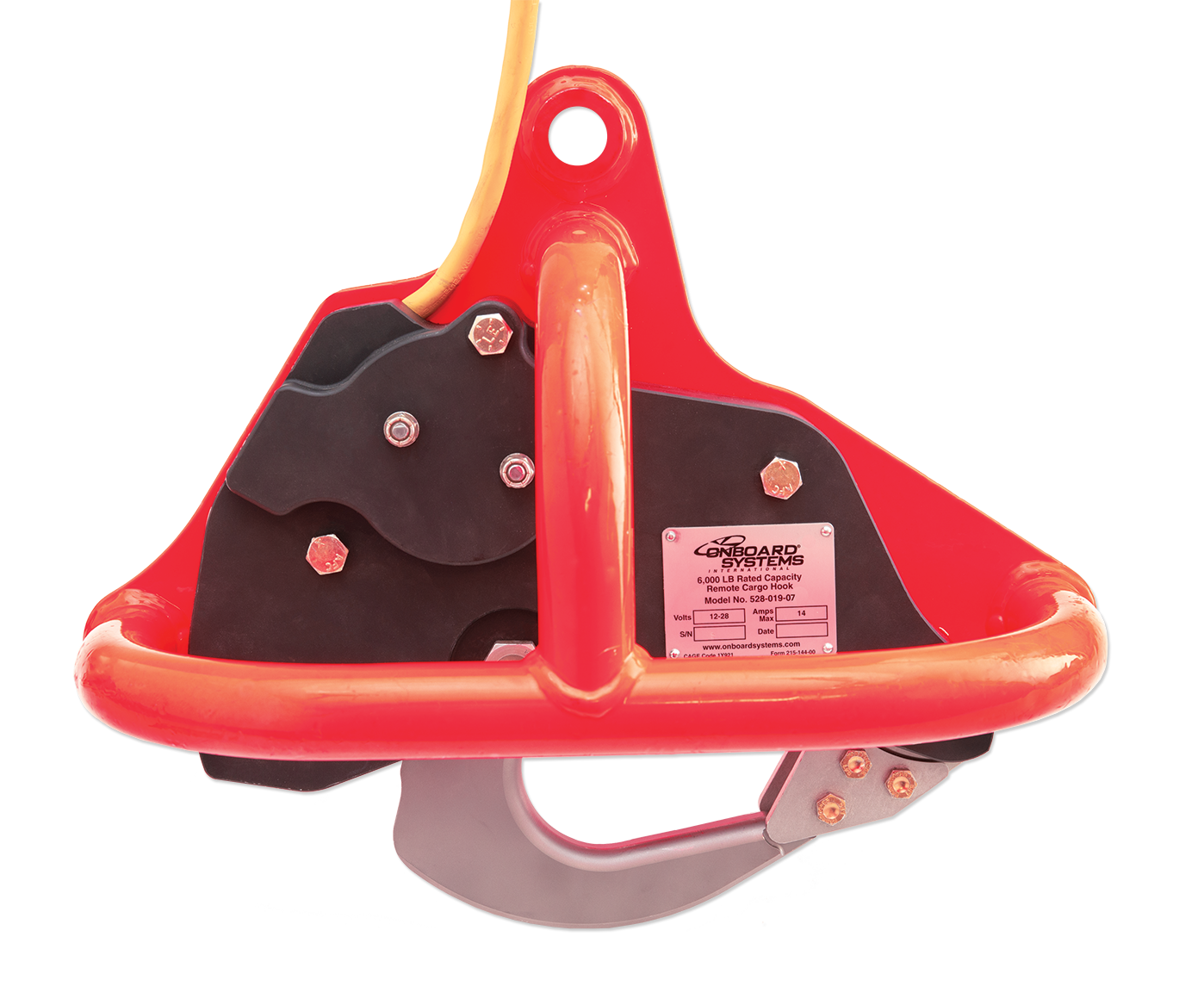 Specifications
Part Number

528-019-07

Design Load

6,000 lb. (2,722 kg)

Minimum Release Load

0 lb. (0 kg)

Electrical Requirements

21-28 VDC (14 amps)

Typical Overhaul

5 years/1,000 hours

Unit Weight

36.5 lb. (16.6 kg)
Remote Hooks
TALON 6K Keeperless Half-Cage Remote Cargo Hook
Product Number: 528-019-07
Call to confirm availability
Onboard's TALON® Remote Cargo Hooks are designed for maximum utility and simplicity for your external cargo missions. With large throats, added safety features, and simplified design, these hooks have proven to be as popular with ground crews as they are with pilots.

While using remote hooks with a traditional keeper has distinct advantages for missions requiring fast loading, it also carries strict rigging size limitations and requires at least 2 lb. (1 kg) of weight on the load beam to release. For missions where rapid loading isn't an issue, or that require unique linkage (such as USFS contract-provided equipment), or where greatest load safety is paramount, a keeperless configuration would be a better option.
View Manuals, Certifications, and Hardware Notes
Send Me A Quote
Add to Cart
Benefits
Keeperless Cargo Hook:

Spring-loaded keepered hooks require a specific size load ring to ensure it won't work its way around the keeper. That's why Onboard replaced the cargo hook keeper mechanism with a uniquely secure load beam system. Since there's no keeper, a wide variety of load ring sizes and styles can be safely used without worrying about dynamic rollout.

Swap Load Beam Configurations in the Field:

Switch between the keepered or keeperless load beam configuration in the field as needed using simple hand tools and a functionality check as described in the owner's manual.

Easily Drop Light Loads:

Keep light loads from hanging up with a hook whose load beam opens to almost 90°, even with the lightest of loads.

Optimized Aerodynamics:

Designed to fly straighter and with less sway while loaded and unloaded.

Durable, High-Visibility Finish:

Stands up to years of duty in the field.

Easy, One-Handed Loading:

Unique load beam remains open after cargo is jettisoned, providing a large loading target for ground crews. Simply push the load ring up against the load beam and the hook closes.

Rigorously Tested & Optimized:

Gives you years of trouble-free flying and ease of loading.

6,000 LB Rating:

Versatile range for medium or heavy lift aircraft.

Counters Voltage Drop:

Onboard's remote hooks are designed to open at 16 VDC so you don't have to worry about the effects of longline length or wire gauge.

Easy Maintenance & Overhaul:

Onboard cargo hooks can be overhauled in the field, at our factory, or by a qualified repair facility using simple hand tools. Quick parts availability minimizes downtime!