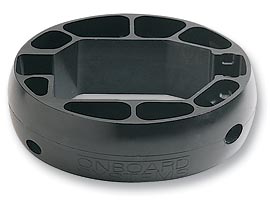 Specifications
Part Number

210-092-00

Unit Weight

3 lb. (1.36 kg)
Bell 204, 205, 212 & 412
Cargo Hook Bumper Ring Kit
Product Number: 210-092-00
Call to confirm availability
Given the harsh operating conditions of many external load missions, you need to protect both your cargo hook and your aircraft. Our Bumper Ring Kit replaces the original magnesium Bell bumper ring with a superior, second generation polymer design that resists cracking and better absorbs the torque caused by load movement during flight.
NOTE: For installation on Breeze-Eastern hook or Onboard Systems keepered hook 528-002-XX
View Manuals, Certifications, and Hardware Notes
Send Me A Quote
Add to Cart
Benefits
Polymer Bumper Ring:

Crack-resistant polymer bumper ring protects the hook, the cables, and the airframe from swinging loads.

Bolt-on Ring Installation:

The ring is a direct bolt-on installation for the original Bell cargo hook system.

Best Availability, Pricing & Support:

Compare our prices & features against other cargo hook manufacturers and you'll see that Onboard Systems provides the best overall value. We stand behind every order with attentive customer support, backed by field- and hangar-experienced A&P mechanics.