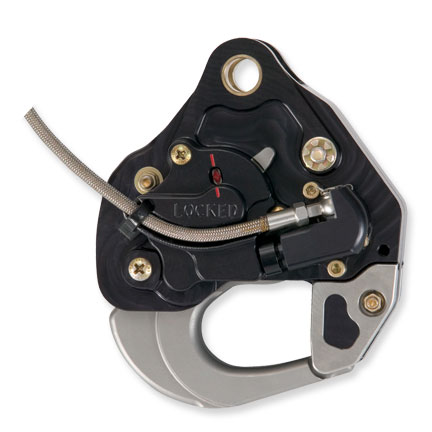 Specifications
Part Number

200-306-01

Design Load

3,086 lb. (1,400 kg)

Release Capacity

8,750 lb. (3,969 kg)

Ultimate Load

11,574 lb. (5,250 k.)

Unit Weight

3.0 lb. (1.36 kg)

Minimum Release Load

0 lb. (3 kg)

Electrical Requirements

22-32 VDC 6.9 - 10 amps
Airbus Helicopters AS350 B3, B3e & H125
Swing Hydraulic Cargo Hook Upgrade Kit
Product Number: 200-306-01
Call to confirm availability
If you already have an Onboard Systems swing suspension system with a TALON® Keeperless Cargo Hook installed, but are interested in swapping it out for a TALON Hydraulic Cargo Hook, then our Hydraulic Upgrade Kits are just what you're looking for! Now you can upgrade your existing cargo hook swing system to the greater load security hydraulic release hooks offer. Buy this part for an AS350 B3 aircraft.
View Manuals, Certifications, and Hardware Notes
Send Me A Quote
Add to Cart
Benefits
No Rigging Requirements:

Onboard's hydraulic cargo hook systems do not require strict rigging procedures each time the system is installed.

Easier Cable Routing:

The hydraulic line is easier to route than a standard manual release cable.

Dry-Break Disconnect:

The hydraulic line can be disconnected without fluid loss or the need to bleed the entire system

Reduced Lifetime System Costs:

Stainless steel, braided hydraulic line is designed to last the life of the system. No more replacing expensive cables every year due to wear and tear!

Compact Hydraulic System:

The hydraulic hook system utilizes a compact master cylinder integrated into the cockpit release handle.

Improved Electrical Connector Position:

The electrical release connector is positioned to protect it from contact with the aircraft and other cargo hook components.

Prompt Order Fulfillment:

We maintain a large inventory of complete systems & spares so that we can ship your order quickly.

Release Safety:

Onboard cargo hooks are designed to release 2.5 times rated load. In an emergency situation, such as a longline snag, Onboard hooks give pilots a significant margin of safety in which to release the cargo load.

Best Availability, Pricing & Support:

Compare our prices & features against other cargo hook manufacturers and you'll see that Onboard Systems provides the best overall value. We stand behind every order with attentive customer support, backed by field- and hangar-experienced A&P mechanics.