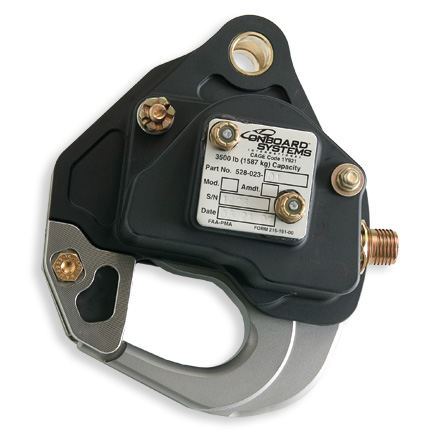 Specifications
Typical Overhaul

5 years/1,000 hours
Enstrom 280FX
Cargo Hook Kit with TALON LC Keeperless Hook
If you opt for a cargo hook system on your Enstrom F280FX aircraft, you'll be glad to know it's from Onboard Systems. Enstrom Helicopters worked directly with Onboard to develop a state-of-the-art cargo hook system for the F280FX aircraft, and it shows!


While traditionally used for passenger transport, the F280FX also makes an excellent utility aircraft. Available exclusively through Enstrom, this cargo hook kit features Onboard's popular TALON LC Keeperless Cargo Hook, giving operators a user-friendly option for increasing revenue generating opportunities by setting up their existing F280-FX aircraft for external load work.
NOTE: Available exclusively through Enstrom Helicopters
View Manuals, Certifications, and Hardware Notes
Benefits
Enstrom-Selected:

Enstrom has selected the TALON LC Keeperless Cargo Hook kit for factory installation.

Release Safety:

Onboard cargo hooks are designed to release 2.5 times rated load. In an emergency situation, such as a longline snag, Onboard hooks give pilots a significant margin of safety in which to release the cargo load.

Extended Time Between Overhauls:

Teflon-lined, self-lubricating bushings at all wearing joints extend the typical overhaul life.
TALON® LC Keeperless Cargo Hook:Our signature keeperless hook handles a wide variety of load ring sizes and styles while eliminating the possibility of losing a load that inadvertently gets past the keeper.

The Onboard Advantage:

Our cargo hook kits can be installed on new or existing aircraft using standard hand tools. Time between overhauls is five years or 1,000 operating hours. And because Onboard Systems maintains a large inventory of cargo hook kits and spare parts, we can usually ship your order out quickly.