Hydraulic Upgrade Kits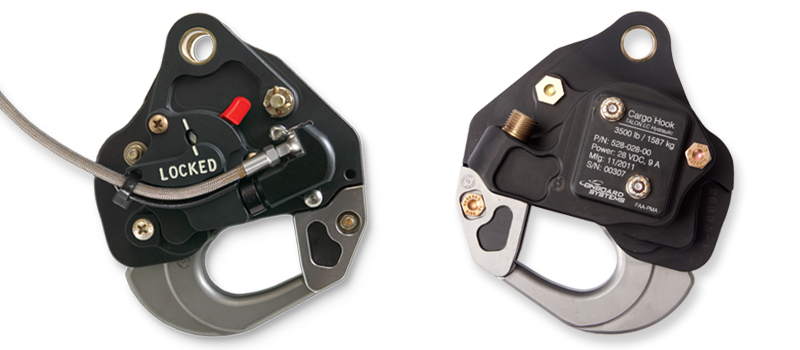 If you already have an Onboard Systems swing suspension system with a TALON® LC Keeperless Cargo Hook installed, but would like to swap it out for a TALON LC Hydraulic Cargo Hook, then our Hydraulic Upgrade Kits are just what you're looking for! Now you can upgrade your existing cargo hook swing system to the greater load security hydraulic release hooks offer.
Onboard's innovative TALON LC Hydraulic Cargo Hooks are designed to minimize the risk of inadvertent cargo releases caused by excessive movement during external load operations, which can activate an improperly rigged manual release cable on a cargo hook system. Hydraulic hook systems allow for simplified cable routing along the belly of the aircraft, and snagging or damage to the cable will not lead to accidentally dropping the cargo.
Eliminates the common causes for inadvertent releases
A technical bulletin issued by the United States Department of the Interior Aviation Management on July 16, 2004 outlined some common safety issues involved in inadvertent cargo hook releases. Their major findings were:
Cables must be rigged to exact specifications each time the hook is installed
Cables are prone to damage that can cause a load release
The Onboard hydraulic release mechanism consists of a small, self-contained hydraulic reservoir that is used to open the hook. It does not use any hydraulic power from the aircraft. The hydraulic release is activated with a cabin-mounted lever that incorporates a compact master cylinder. A slave cylinder integrated in the cargo hook interfaces with the release mechanism.
System Advantages
The hydraulic release offers significant advantages for installation, maintenance and operation:
Installation — Manual "push-pull" cable release systems need to be installed with very precise limits in order to make sure the system performs properly. A mistake one way could prevent the system from opening the hook; a mistake the other way could lead to the system accidentally opening. The nature of the cabled systems requires very large radius bends. The hydraulic system is not subject to any of the tight rigging requirements and can be installed with very tight bends, offering greater flexibility in routing the cable from the hook to the flight controls.
Maintenance — For similar reasons maintenance is simpler with a hydraulic system. A dry-break, quick-disconnect allows the hook system to be removed without any hydraulic fluid loss or need to bleed the complete system.
Operation — If a mechanical cable gets snagged or hit by the load it can inadvertently open the hook causing the loss of the cargo. The hydraulic system will only open the hook when the pilot activates the release handle — snagging or damage to the cable will not lead to accidentally dropping the cargo.
Call us to find out more, or click here to visit our Upgrade Kits page.