Airbus H125 (AS350) Hydraulic Sling Cargo Hook Kit
Airbus H125 (AS350) with an Onboard hydraulic sling hook as filmed on a live sling-load mission taking off with a snowmobile load for the Supernatural Snowboarding Competition at Baldface Lodge in Nelson, BC in Canada (Credit: TheHDAviation Channel)
Onboard's sling hydraulic cargo hook kit for the Airbus H125 (AS350) aircraft minimizes the risk of inadvertent cargo releases caused by excessive movement during external load operations, which can activate an improperly rigged manual release cable on a cargo hook system. Hydraulic hook systems allow for simplified cable routing along the belly of the aircraft, and snagging or damage to the cable will not lead to accidentally dropping the cargo.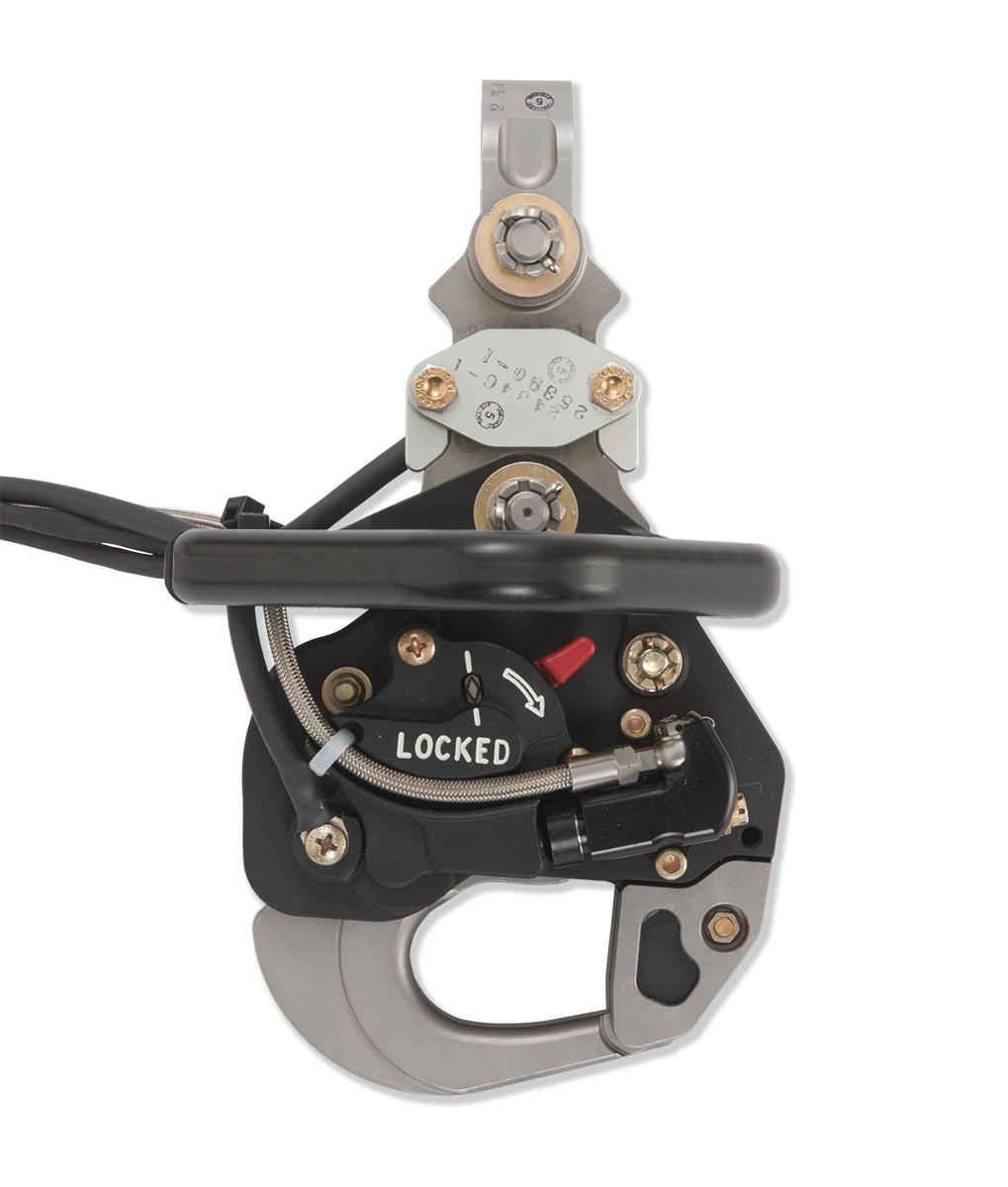 Eliminates the common causes for inadvertent releases
Onboard Systems has pioneered and developed hydraulic technology to serve as the emergency release for a number of critical reasons. The United States Department of the Interior Aviation Management released a Technical Bulletin dated July 16, 2004 that outlined common safety issues involved in inadvertent cargo hook releases. Their major findings were:
Cables must be rigged to exact specifications each time the hook is installed
Cables are prone to damage that can cause a load release
The Onboard hydraulic release mechanism consists of a small, self-contained hydraulic reservoir that is used to open the hook. It does not use any hydraulic power from the aircraft. The hydraulic release is activated with a cabin-mounted lever that incorporates a compact master cylinder. A slave cylinder integrated in the cargo hook interfaces with the release mechanism.
System Advantages
Onboard's cargo hook sling kit features protective anodizing and long-life bushings at each wearing joint to help protect against salt corrosion in marine environments. We also included a built-in bumper ring and hook travel limits to help prevent damage to the cargo hook and control cables—minimizing the risk of an inadvertent release. Our cargo hook sling kit is designed to mount to the single hard point on the belly of the aircraft.
Expand Your Capabilities — With its smaller profile and lower cost, a cargo hook sling kit is an economical way to add external load capabilities to your aircraft with minimal impact to other equipment mounted on the fuselage.
Easy Maintenance — The cargo hook and attach linkage are easily maintained with bushings at all wearing joints.
Integrated Onboard Weighing System — Allows pilots to instantly know the exact weight of the cargo on the hook. Reduces the risk of overload airframe stress and helps the pilot make more informed aircraft loading decisions.
For more information, visit the Airbus H125 (AS350) hydraulic sling cargo hook product page.