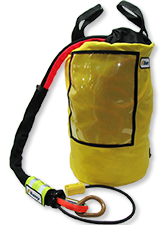 Specifications
Part Number

DLL-025-6400-V
Benefits
Optional Accessories:

Contact us to request custom line lengths or hardware (such as a non-electric swivel hook for bottom end), weighted bottom end-covers (for increased load stability and velocity without load), or other accessories.

Compliances:

Supported by Airworthiness Analysis to FAA CFR Title 14, Parts 27 & 29.

Extended Shelf & Service Life:

Recent product design update and extensive airworthiness analysis now allows for a combined shelf/service life of up to 10 years for products manufactured after February 1, 2020. For products manufactured before February 1, 2020, please refer to shelf and service life information on the product ID tag.

Comes With:

Permanent ID tag, Certificate of Compliance (COC), transport/storage bag, and user instructions manual.

Minimum 7:1 Safety Factor:

Breaking strength is seven times the rated working load limit (WLL).

Proof-loading:

Proof-loaded to working load limit (WLL).

Wire Cable Alternative:

12-strand, rotation-resistant rope made from lightweight UHMWPE (ultra high molecular weight polyethylene) fiber replaces unwieldy wire cable.

Protective End Covers:

Provide abrasion resistance at both ends of the longline (top and bottom). Reflective cinch strap promotes high visibility.