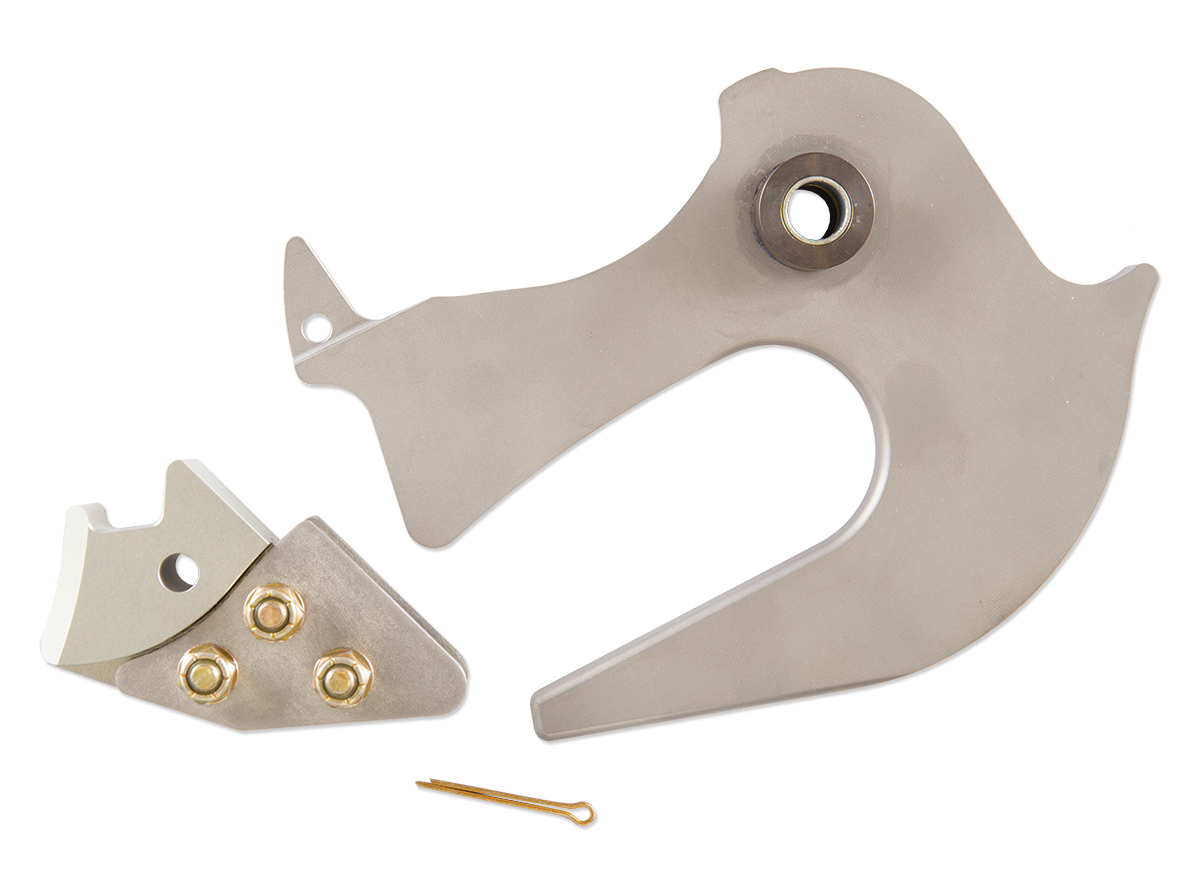 Specifications
Part Number

212-057-00

Unit Weight

3.3 lb. (1.5 kg)

Minimum Release Load

0 lb. (0 kg)
Remote Hooks
TALON Keeperless Retrofit Kit for 3.3K Half Cage Remote Hook
Product Number: 212-057-00
Call to confirm availability
While using remote hook with a traditional keeper has distinct advantages for missions requiring fast loading, it also carries strict rigging size limitations and requires at least 2 lb. (1 kg) of weight on the load beam to release. For missions where rapid loading isn't an issue, or that require unique linkage (such as USFS contract-provided equipment), or where greatest load safety is paramount, a keeperless configuration would be a better option.

This retrofit kit allows you to convert your existing TALON 3.3K Remote Hook from a keepered hook to a keeperless hook as needed to suit specific missions.
NOTE: For P/Ns 528-018-02 and 528-018-03. Retrofit kit cannot be used on 528-018-00 or 528-018-01 until Service Bulletin 159-024-00 has been completed.
View Manuals, Certifications, and Hardware Notes
Send Me A Quote
Add to Cart
Benefits
Keeperless Cargo Hook:

Spring-loaded keepered hooks require a specific size load ring to ensure it won't work its way around the keeper. That's why Onboard replaced the cargo hook keeper mechanism with a uniquely secure load beam system. Since there's no keeper, a wide variety of load ring sizes and styles can be safely used without worrying about dynamic rollout.

Upgrade at Overhaul:

Upgrade your TALON cargo hook during your next scheduled overhaul, inspection, or repair service and we will waive installation charges. You pay only for the upgrade components.

Swap Load Beam Configurations in the Field:

Switch between the keepered or keeperless load beam configuration in the field as needed using simple hand tools and a functionality check as described in the owner's manual.

Cost-Effective Versatility:

Hook configuration can be changed from keepered to keeperless and back again as needed for your missions.

Easily Drop Light Loads:

Keep light loads from hanging up with a hook whose load beam opens to almost 90°, even with the lightest of loads.

Easy Installation:

Installation is quick and easy with readily available tools. Assembly instructions can be found in the documentation for this hook, which can be downloaded from our website.