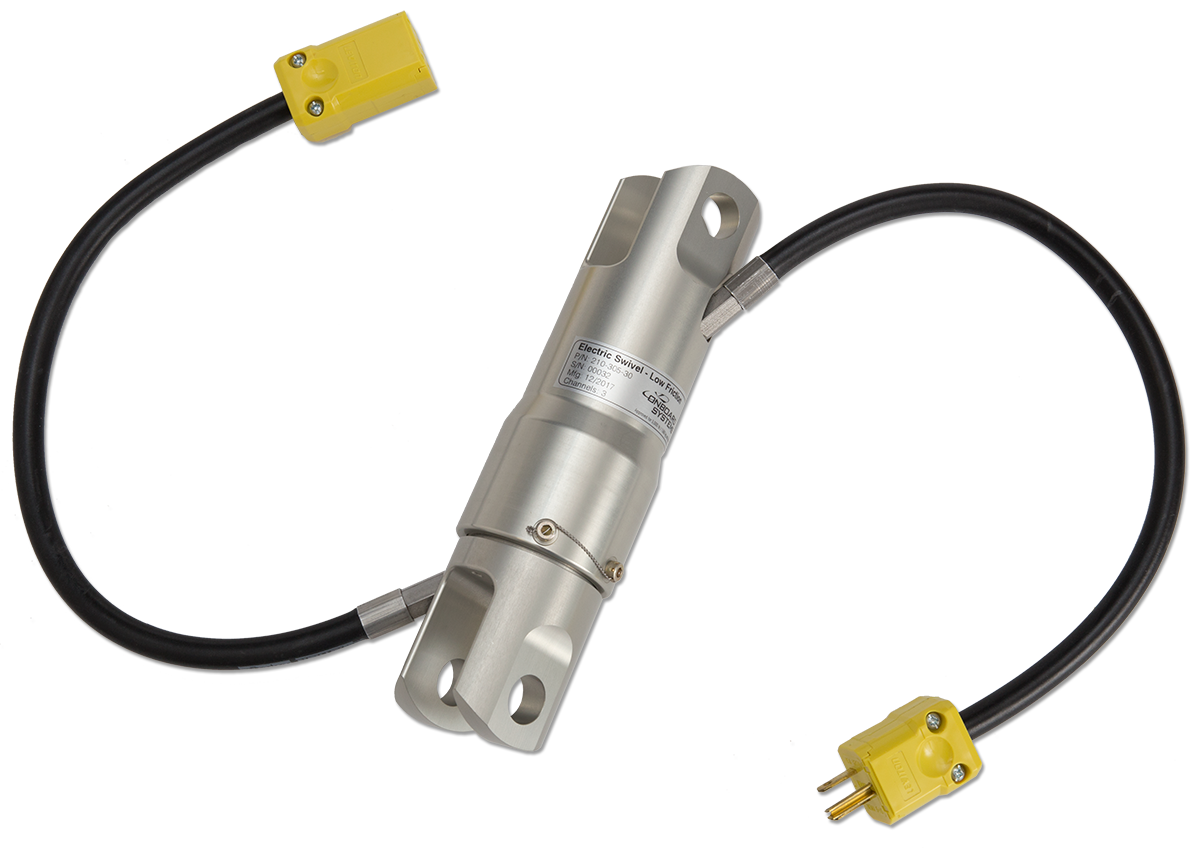 Specifications
Part Number

210-305-30

Design Load

6,000 lb. (2,722 kg)

Ultimate Strength

22,500 lb. (10,205 kg)

Electrical Rating

3-channel, 30 amp, 0-250 VDC

Conductors

3

Unit Weight

4 lb. (1.8 kg)
Swivels
Electric Swivel Assembly
Product Number: 210-305-30
Call to confirm availability
Improve your helicopter's external load operations performance, prevent damage to electrical cables, and promote helicopter flight safety with electric swivels from Onboard Systems.


In 2013, the FAA issued a safety alert for helicopter operators (SAFO 13010) to outline current guidance and best practices for Part 133 helicopter external load operations. The FAA SAFO discusses the importance of using a swivel with your remote cargo hook so that spinning loads do not affect helicopter flight safety. The precautions are especially important when rigging loads (or load configurations) that are new to the operator—particularly those loads known to rotate on the cargo hook.

Onboard Systems' electric swivels have been designed to interface directly with our TALON® Remote Cargo Hooks, eliminating the need to use additional shackles to attach your longline and remote hook to the electric swivel. Also called electrical swivels or power swivels, an electric swivel provides a continuous power connection between the cockpit release and the remote cargo hook or other external load operations equipment. The electric swivel allows the external load to rotate freely to assure helicopter flight safety.
NOTE: For loads up to 6,000 lb. (2,722 kg) with non-TALON Remote Cargo Hooks. Swivel only, no hardware included.
View Manuals, Certifications, and Hardware Notes
Send Me A Quote
Add to Cart
Benefits
Continuous Electrical Connection:

Electric swivels provide a continuous electrical connection between the cockpit release and the remote cargo hook. The electric swivel allows the cargo hook to accommodate external load movement by spinning without curling or tangling of the longline.

Spins Freely Under Load:

New and improved design requires lower torque to spin the line under load, even when using synthetic longlines.

Lightweight Aluminum Body:

Corrosion resistant aluminum swivel body reduces unit weight, making it easier for the ground crew to handle, while ensuring years of trouble-free use in a wide variety of environments.

Travel Stops:

Our electric swivels include a travel stop that mounts directly on top of the remote hook lug. The travel stop keeps the swivel in a straight line with the hook, preventing damage to the electrical cable.

Robust Electrical Wire Protection:

The swivel's electrical cables are sheathed in a flexible rubber casing with built-in tensile strain relief for long life.

Simplified Linkage:

Both ends of the electric swivel include attachment hardware that allows you to connect it directly to the longline and a TALON Remote Cargo Hook. No need for additional shackles or linkage!

Use with Other Cargo Hook Brands:

Use shackles or other linkage to attach the Onboard Systems electric swivel assembly to other brands of helicopter external load equipment.