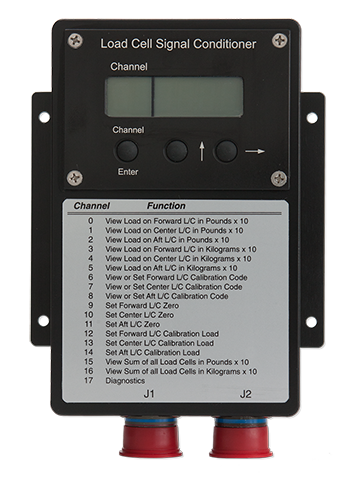 Specifications
Part Number

210-115-00

Electrical Requirements

20-32 VDC

Unit Weight

2.21 lb. (1 kg)
Boeing CH-47
3 Channel Load Cell Signal Conditioner
Product Number: 210-115-00
Onboard's Signal Conditioner for the CH-47 can be connected with up to three load cells, allowing you to monitor loads on the fore, aft and center cargo hooks. It can be conveniently mounted in the aircraft so it is accessible to both the operator and maintenance personnel.
NOTE: For use with the E-59 and E-60 load cells for the Boeing CH-47 aircraft
View Manuals, Certifications, and Hardware Notes
Benefits
Monitors all Three Hooks:

Provides three independent load cell amplifier circuits, excitation power supplies, analog outputs and three load-on hook indications.

Self-Calibration:

The unit can be quickly calibrated by picking up a known-weight load.

BIT Routine:

A built in test (BIT) routine tests electronics, the load cells, and the interconnecting cables and displays error messages if faults are found.

No Screwdriver Adjustments:

All calibration and zeroing out is done with software.