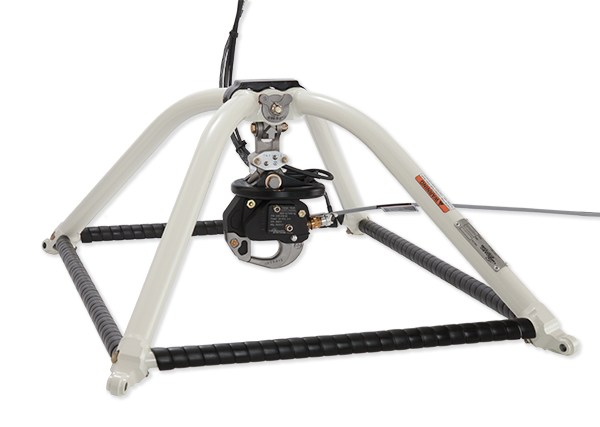 Specifications
Part Number

200-292-02

Design Load

3,100 lb. (1,406 kg)

Unit Weight

35 lb. (15.9 kg)

Ultimate Load

11,625 lb. (5,272 kg)

Release Capacity

8,750 lb. (3,969 kg)

Typical Overhaul

5 years/1,000 hours
Airbus Helicopters AS355
Cargo Hook Swing Kit with TALON LC Keeperless Cargo Hook
Product Number: 200-292-02
Call to confirm availability
While the AS355 aircraft has traditionally been used for executive transport, it also makes an excellent utility aircraft! Onboard's swing cargo hook kit for the AS355 gives operators an economical option for increasing revenue generating opportunities by setting up existing aircraft for external load work, along with lots of improvements and upgrades over the original OEM design.
View Manuals, Certifications, and Hardware Notes
Benefits
Greater Value Than OEM System:

System incorporates numerous features and benefits beyond what the OEM system offers at a reduced price.

Airframe & Hook Protection:

Built-in travel limits keep the hook from striking the airframe and relieve strain on the hook control cables.

Built-in Bumper Ring:

Polymer bumper ring helps keep both the hook and control cables from impacting the swing frame and causing damage.

Gimbal Frame:

Distributes weight between the four cables more effectively than a rigid frame to ensure balanced load sharing throughout the aircraft.

Landing Gear Clamp Installation:

Onboard's design moves the hard points to the landing gear clamps instead of the more time-consuming and costly fuel cell saddle installation. Installation time and complexity are markedly reduced.

Extended Time Between Overhauls:

Teflon-lined, self-lubricating bushings at all wearing joints extend the typical overhaul life.

Integrated Onboard Weighing System:

Allows pilots to instantly know the exact weight of the cargo on the hook. Reduces the risk of overload airframe stress and helps the pilot make more informed aircraft loading decisions.

The Onboard Advantage:

Our cargo hook kits can be installed on new or existing aircraft using standard hand tools. Time between overhauls is five years or 1,000 operating hours. And because Onboard Systems maintains a large inventory of cargo hook kits and spare parts, we can usually ship your order out quickly.

Release Safety:

Onboard cargo hooks are designed to release 2.5 times rated load. In an emergency situation, such as a longline snag, Onboard hooks give pilots a significant margin of safety in which to release the cargo load.

Fixed & Removable Provisions:

Includes both the fixed and removable cargo hook provisions.

Airbus Helicopters Approved:

Approved for installation on the Airbus Helicopters AS355 models E, F, F1, F2, N and NP.