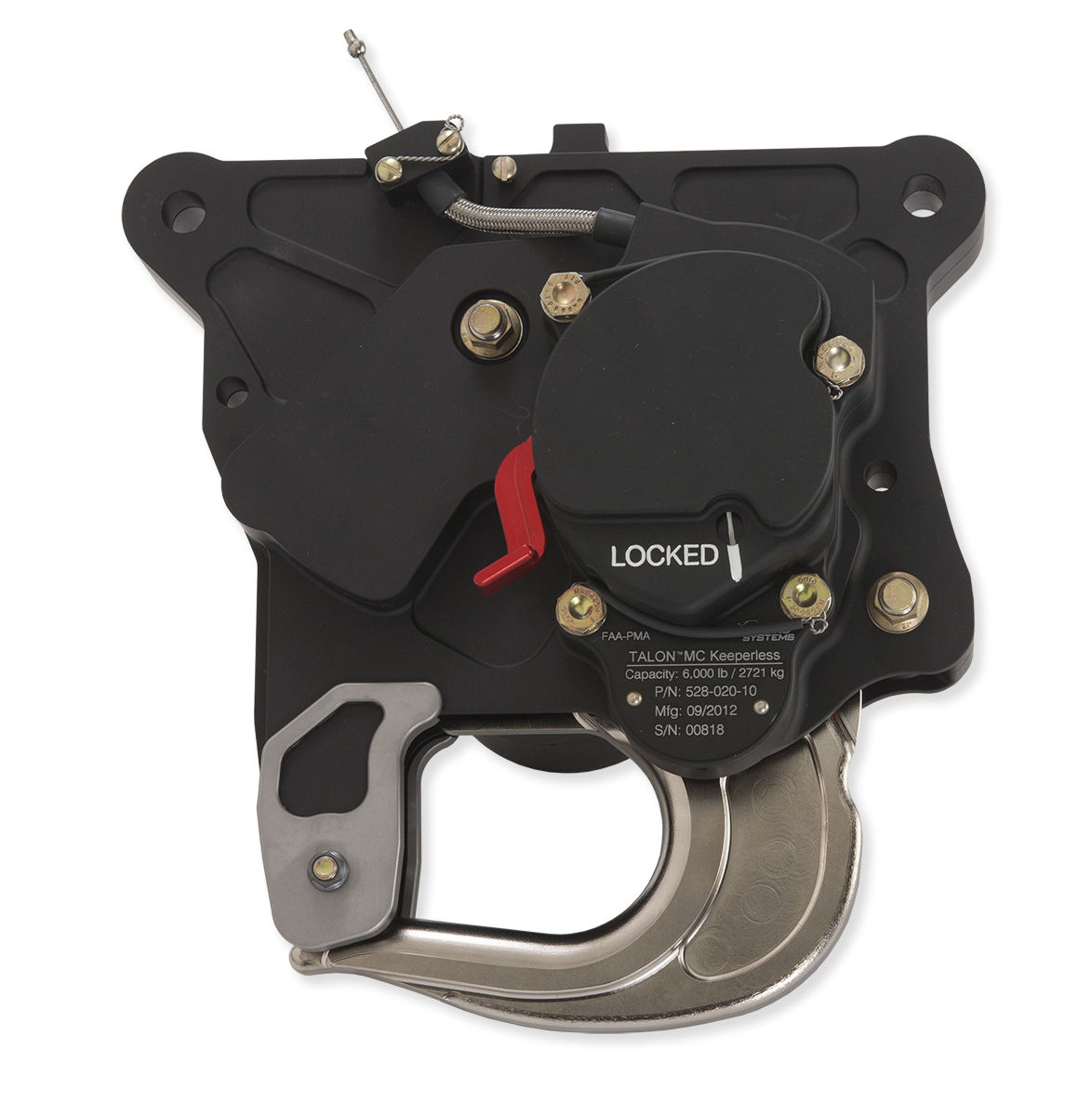 Specifications
Unit Weight

.5 lb. (.23 kg)
Surefire Upgrades
TALON MC Cargo Hook Surefire Upgrade Kit
Call to confirm availability
Upgrade your existing TALON MC Cargo Hook with our Surefire® Release Technology. To help guard against accidental load loss, this useful safety option adds an integrated electronic circuit to your cargo hook that provides about a half-second delay from when the electrical release button is pressed until the hook opens.
NOTE: For P/N series 528-020-XX
View Manuals, Certifications, and Hardware Notes
Send Me A Quote
Add to Cart
Benefits
Helps Prevent Inadvertent Releases:

The half-second delay ensures that a purposeful engagement of the release button has been triggered, helping to prevent inadvertent external load loss caused by accidental contact with the button or a momentary button mix up.

Instant Release Authority Retained:

Pilots can still use the manual release in an emergency if the hook must be opened immediately.

Easy Installation:

Installation is quick and easy with readily available tools. Assembly instructions can be found in the documentation for this hook, which can be downloaded from our website.

Proven System Reliability:

Solid-state circuit is environmentally sealed and contains multiple redundant components that have been rigorously qualified and tested per stringent FAA guidelines.

Easy Identification:

To make it easier to distinguish between hooks with Surefire and those without Surefire, we use a gold-colored solenoid housing case on the Surefire-enabled hooks, instead of our regular black anodizing finish.

Upgrade at Overhaul:

Upgrade your TALON cargo hook during your next scheduled overhaul, inspection, or repair service and we will waive installation charges. You pay only for the upgrade components.