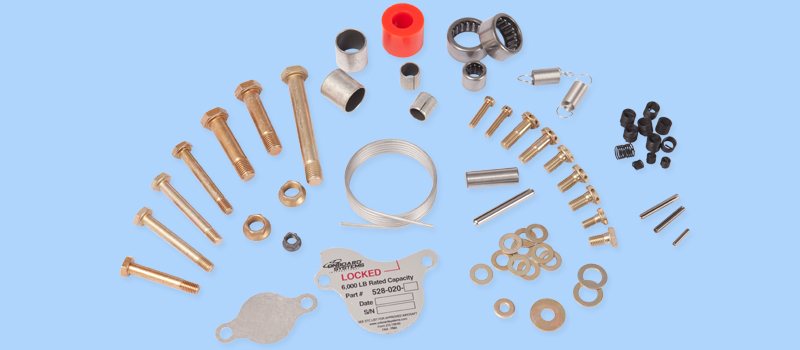 Overhaul Kits
One of the many benefits of our cargo hook equipment is that our hooks are easy to overhaul. Simply disassemble and inspect all the parts of your hook according to the instructions in your service manual, and replace those parts that show applicable wear. Our cargo hook and suspension system overhaul kits will greatly reduce the hassle of overhauling your Onboard external lift equipment while saving you time and money!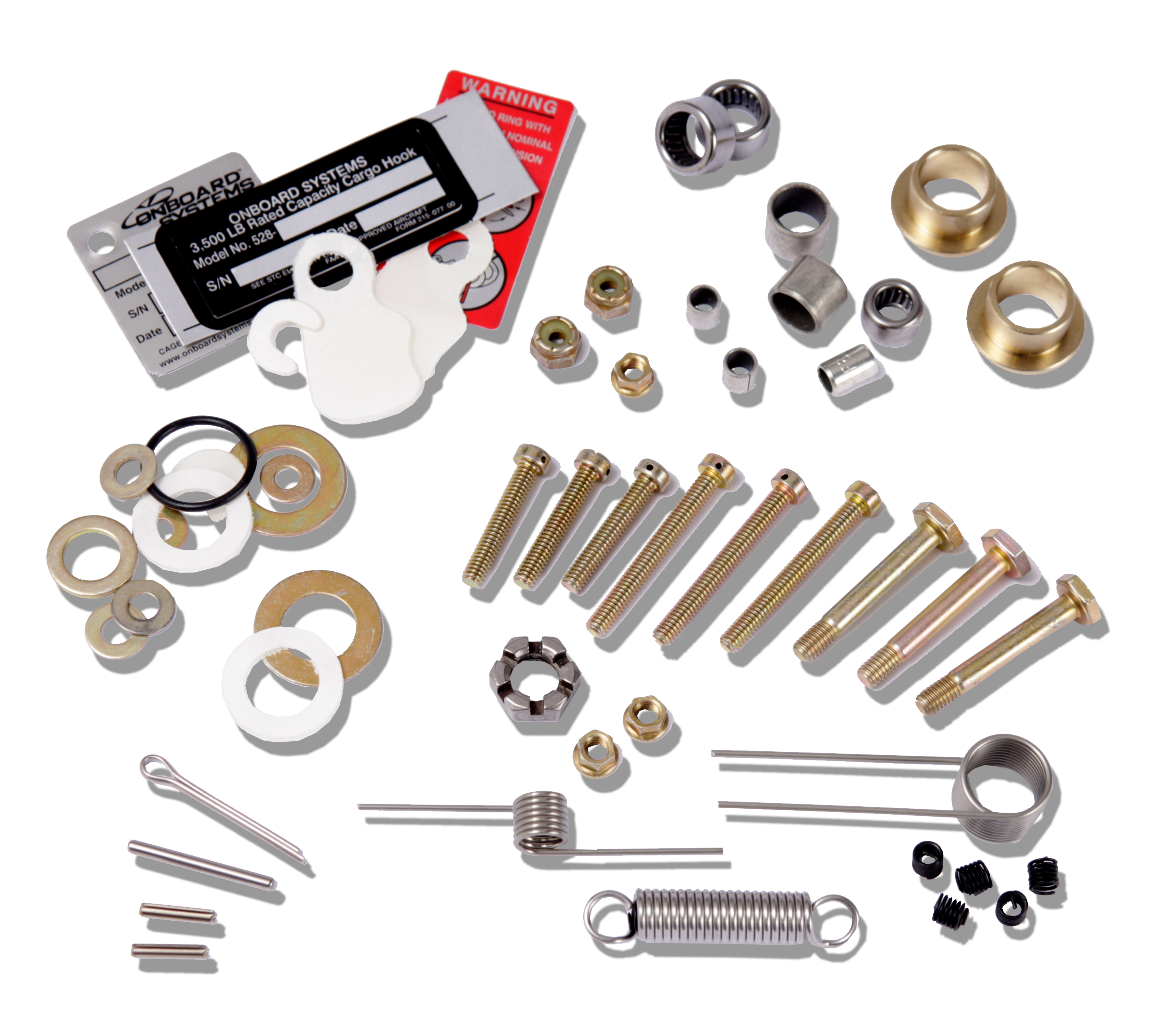 Benefits
Fast & Convenient — Helps ensure that you have everything you'll need to perform a standard overhaul at your location before you get started.

Used by the Factory — Each kit contains all of the parts and components used by our own factory technicians when they perform a standard factory overhaul on equipment that is sent in for service.

Easy to Order — Lets you place an order for a single part number, rather than having to identify each part individually and then place an order for a miscellaneous list of washers, bushings, bearings, cotter pins and other small parts.

Greater Value — In addition to the speed and convenience these kits offer, we've priced them at a significant discount compared to ordering each of the included components individually.
Below is a table showing all of our overhaul kits, including part numbers and descriptions. For more information, please call us or click the part number link for pricing and other information on our website. For a list of service manuals, please visit our Manuals & Documents page.
Hook P/N
Kit P/N
Description
200-08X-XX
212-022-00*
Bell 204-412 Suspension Frame Overhaul Kit
200-210-02
212-050-00
12K Hook Overhaul Kit
200-255-XX
212-041-00*
Bell 429 Suspension Frame Overhaul Kit
200-28X-XX
212-040-00*
AS350 Swing Suspension Frame Overhaul Kit
200-391-XX &
200-401-XX
212-042-00*
Bell 204-412 Non-Rotating Suspension System Overhaul Kit
210-300-00
212-049-00
TALON Auto-Loc Cargo Hook Overhaul Kit
528-002-XX
212-016-00
6,000 LB Cargo Hook Overhaul Kit
528-010-XX
212-013-00
TALON LC Hook Overhaul Kit
528-017-XX
212-017-00
TALON LC Big Mouth Hook Overhaul Kit
528-018-02 &
528-018-05
212-018-00
TALON 3K/3.5K Remote Hook Overhaul Kit
528-018-03 &
528-018-06
212-030-00
TALON 3K Remote Hook Overhaul Kit
528-019-XX
212-019-00
TALON 6 K Remote Hook Overhaul Kit
528-019-01 &
528-019-05
212-031-00
TALON 6K Remote Hook Overhaul Kit
528-020-XX
212-011-00
TALON MC Keeperless Hook Overhaul Kit
528-021-XX
212-021-00
TALON Carousel Hook Overhaul Kit
528-023-XX
212-015-00
TALON LC Keeperless Hook Overhaul Kit
528-027-XX
212-029-00
TALON LC 3.5K Fast Rope Hook Overhaul Kit
528-028-XX
212-020-00
TALON LC Hydraulic Hook Overhaul Kit
528-029-00
212-024-00
TALON LC Keeperless 3.6K Hook Overhaul Kit
528-030-00
212-039-00
TALON MC Cargo Hook Overhaul Kit
528-041-XX
212-032-00
528-041-XX Hook Overhaul Kit
528-044-00
212-037-00
1K Carousel Hook Overhaul Kit
528-045-00 &
528-046-00
212-036-00
Hayabusa® Hook Overhaul Kit