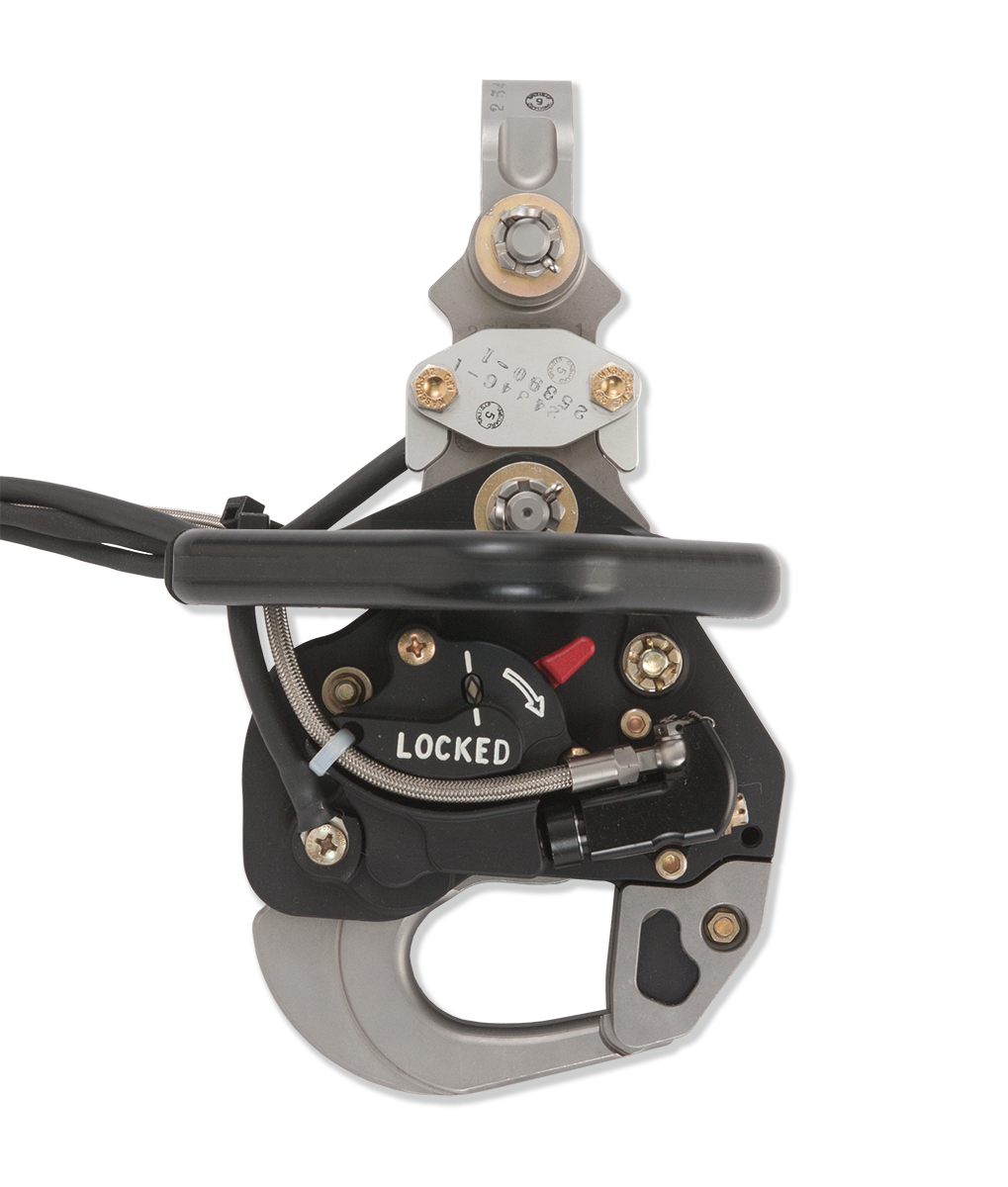 Product Number 200-282-01
Eurocopter AS350
Price: $ 24,784.00
Add to Cart
Call to confirm availability
Cargo Hook Sling Kit with TALON LC Hydraulic Hook
Onboard's cargo hook Sling Kit offers a new level of utility not available in the original OEM design and multiple improvements—at a better price. We added long-life bushings at each wearing joint and upgraded the anodizing to better protect against salt corrosion in marine environments. We also included built-in travel limits so that the cargo hook sling system won't damage the cargo hook or control cables—minimizing the risk of an inadvertent release. Our cargo hook sling kit is designed to mount to the single point hard point on the belly of the aircraft.
Note:
For AS350 B2 and previous aircraft
Benefits
Low Maintenance: The cargo hook and attach linkage are easily maintained with bushings at all wearing joints.
Built-in Bumper Ring: Polymer bumper ring helps keep both the hook and control cables from impacting the frame and causing damage that could lead to an inadvertent load release.
Expand Your Capabilities: With its smaller profile and lower cost, a cargo hook sling kit is an economical way to add external load capabilities to your aircraft with minimal impact to other equipment mounted on the fuselage.
Integrated Onboard Weighing System: Allows pilots to instantly know the exact weight of the cargo on the hook. Reduces the risk of overload airframe stress and helps the pilot make more informed aircraft loading decisions.
TALON® LC Hydraulic Hook: Our hydraulic hook greatly increases load security by using a hydraulically activated release mechanism instead of a traditional manual release cable.
The Onboard Advantage: Our cargo hook kits can be installed on new or existing aircraft using standard hand tools. Time between overhauls is five years or 1,000 operating hours for all TALON cargo hooks. And because Onboard Systems maintains a large inventory of cargo hook kits and spare parts, we can usually ship your order out quickly.
Specifications
Design Load

1,660 LB (750 KG)

Release Capacity

8,750 LB (3,969 KG)

Typical Overhaul

5 years

Ultimate Load

6,225 LB (2,823 KG)

Unit Weight

12 LB (5.44 KG)
Hardware
Requires additional parts as specified in the kit Owner's Manual