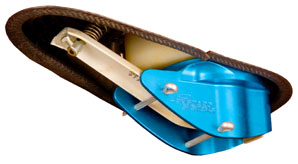 Product Number 200-299-00
Eurocopter AS350; Eurocopter EC130
Price: $ 1,118.00
Add to Cart
Call to confirm availability
Fuel Drain Guard Kit
Eurocopter operators using a swing cargo hook system can have an inadvertent loss of fuel if the swing frame makes contact with the fuel drain lever located on the belly of the aircraft. This critical safety hazard can deplete the aircraft's fuel level without the pilot's knowledge—leading to a life-threatening situation. Onboard Systems has developed and certified a Fuel Drain Guard Kit that helps eliminate the potential for accidental fuel release and is a vital safety improvement for this aircraft.
Note:
Designed for aircraft with B-2 style dual fuel pump type tank
Benefits
Mechanical Barrier: Provides a mechanical barrier that helps prevent the fuel drain lever from being accidentally activated by movement of the cargo hook swing system.
Better Positioning: Guard raises the original Eurocopter fuel drain lever, positioning it higher for greater protection on the aircraft belly.
Quick & Easy Installation: Interfaces the existing Eurocopter fuel drain, lever and control cable.
No Modification Needed: Attaches to the bottom of the fuel tank without any modifications.
Specifications
Design Load

NA

Unit Weight

.40 LB (.15 KG)