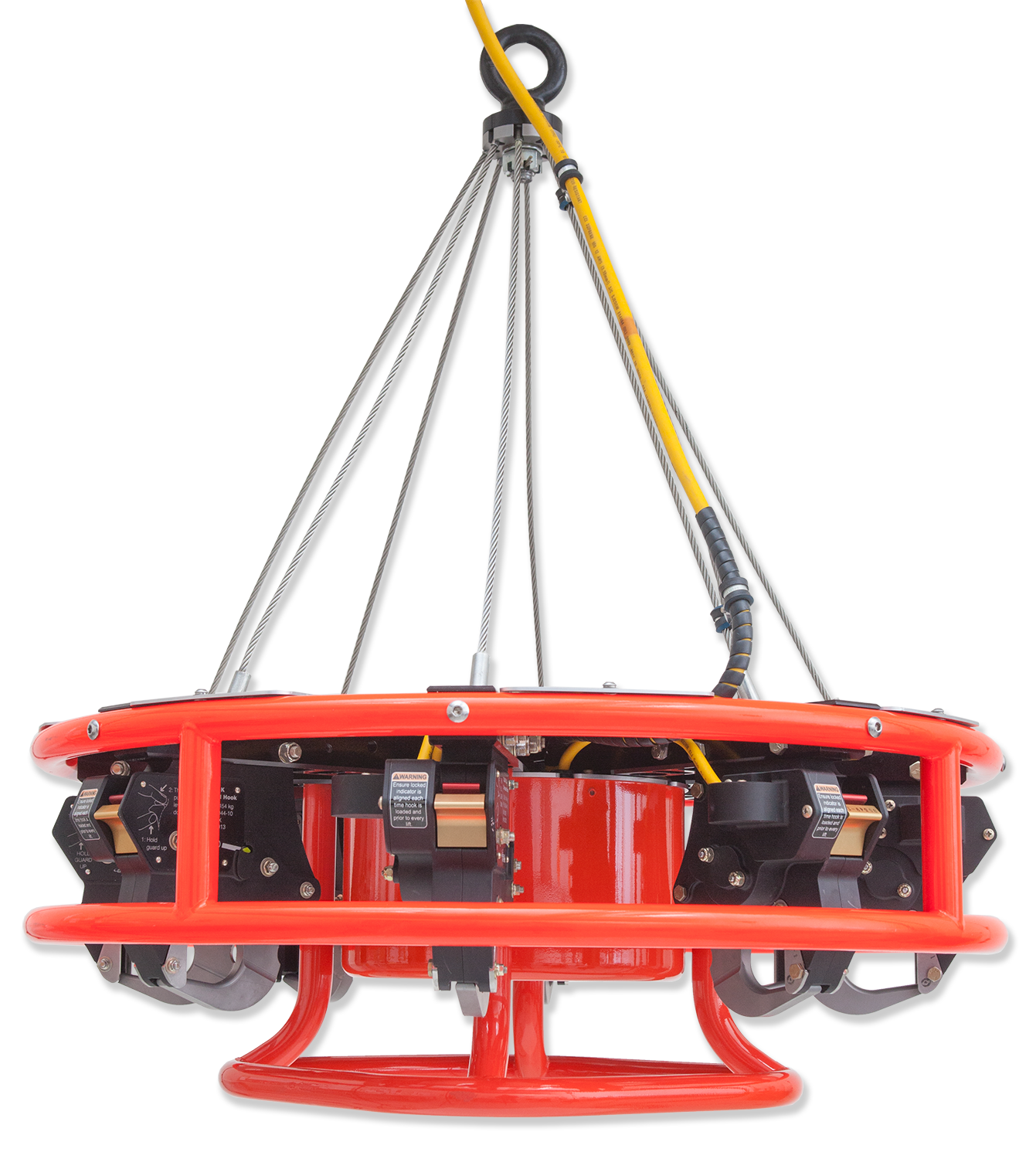 Specifications
Part Number

200-421-00

Unit Weight

65 lb. (29 kg)

Max Load (Single Hook)

650 lb. (295 kg)

Maximum Combined Load

2,400 lb. (1,087 kg)

Electrical Requirements

≤ 8 A @ 28 VDC

Throat Size (Height x Depth)

1.38 x 2 in. (35 x 51 mm)

Typical Overhaul

5 years/1,000 hours
Carousels
SPIDER Smart 6-Hook Carousel System (with lighted hooks)
Product Number: 200-421-00
Call to confirm availability
The SPIDER® Smart Carousel is Onboard's latest generation in carousel equipment. Designed to work with our lighted TALON® 2K Remote Hooks and our new controller, the SPIDER Smart Carousel gives you all the features you've been asking for in a multiple-drop delivery system. For maximum versality, it can be configured in the field with your choice of four, six, or eight independent load points by adding or removing spokes and hooks.
View Manuals, Certifications, and Hardware Notes
Send Me A Quote
Add to Cart
Benefits
Illuminated Feedback:

Carousel provides illuminated feedback showing which hook is staged for release.

Automatic Hook Advancement:

Controller keeps track of which hooks have been released and automatically advances to arm the next hook.

Controller Override:

Pilots can bypass the auto advance settings and drop loads out of sequence if needed, including drop-all functionality.

Easy to Configure:

A DIP switch lets you enable or disable various custom features (such as drop-all functionality, select hook, etc.) without the need to flash new software.

Automatic Hook Detection:

Controller senses the number of cargo hooks connected, ignoring any empty slots.

Designed for Harsh Environments:

Controller is positively O-ring sealed with minimal potential leak points. A GORE-TEX® vent allows the system to breathe.

Dual Hoop Weldment:

Carousel frame has been upgraded to a dual hoop weldment to provide greater hook protection.

3-Wire Control:

Lets you use your existing long line equipment, connections, and swivels with some minor aircraft rewiring to provide a continuous circuit to the carousel.

Easy Stowage:

Flexible cables make it easy to store in your hangar until needed.

Quick Installation:

Uses existing three-wire long line power set-up. Ability to quickly add or remove hooks from the controller.

Numbered Hooks:

Large numbers on top of each hook help the ground crew place the proper load on each hook and assist the pilot with load drop coordination.

Buy What You Need:

You can start out with a minimum number of hooks and buy additional Spider Spoke Kits and TALON Carousel Hooks as needed.

Built Tough for Low Maintenance:

Rugged cage protects your hooks from above and below. The durable, high-visibility finish makes it easy to spot from the ground and gives you years of duty in the field.

Legacy Carousel Support:

Controller can operate in a basic mode to support legacy carousel systems.