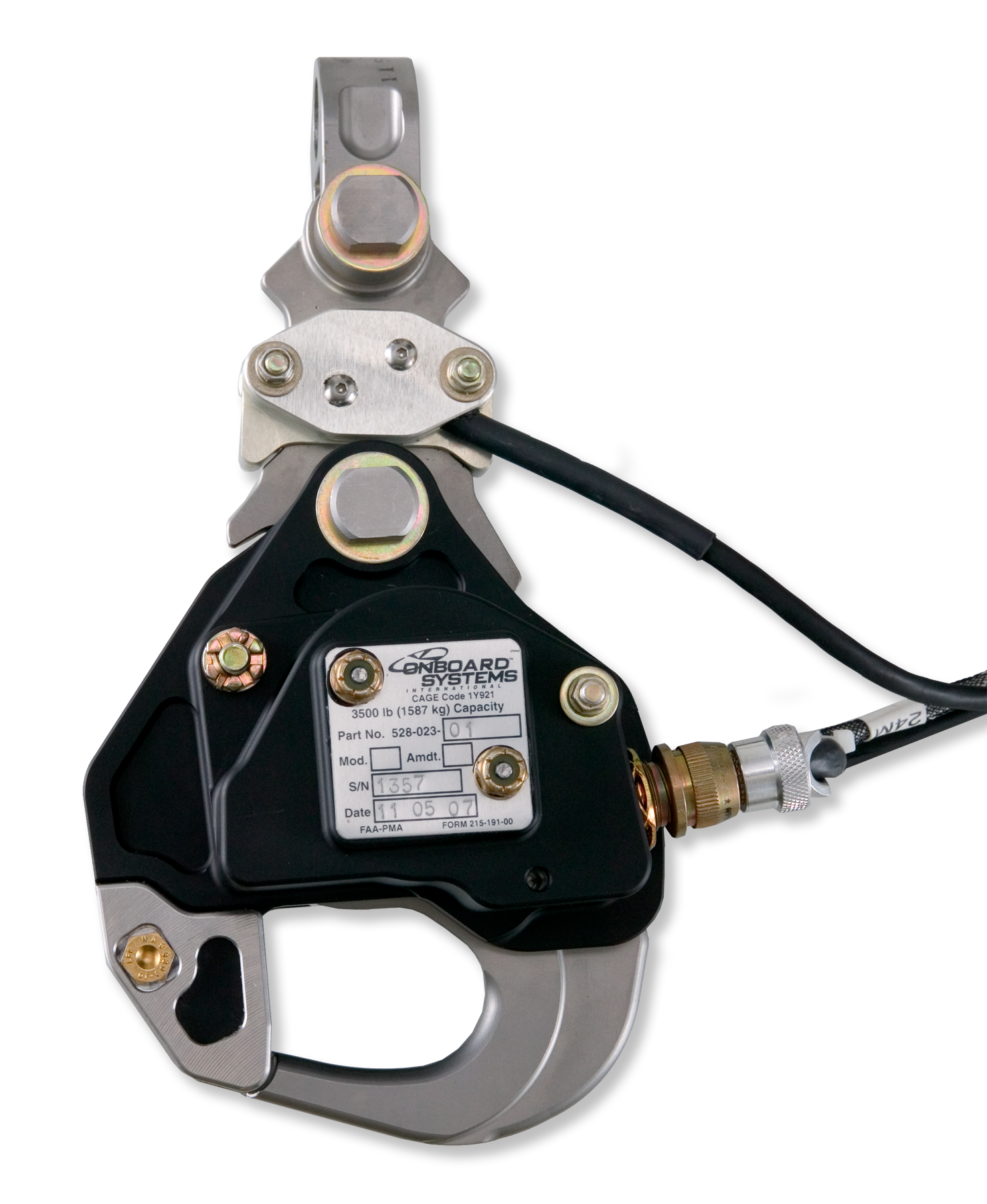 Benefits
Expand Your Capabilities:

With its smaller profile and lower cost, a cargo hook sling kit is an economical way to add external load capabilities to your aircraft with minimal impact to other equipment mounted on the fuselage.

Low Maintenance:

The cargo hook and attach linkage are easily maintained with bushings at all wearing joints.

Integrated Onboard Weighing System:

Allows pilots to instantly know the exact weight of the cargo on the hook. Reduces the risk of overload airframe stress and helps the pilot make more informed aircraft loading decisions.

The Onboard Advantage:

Our cargo hook kits can be installed on new or existing aircraft using standard hand tools. Time between overhauls is five years or 1,000 operating hours. And because Onboard Systems maintains a large inventory of cargo hook kits and spare parts, we can usually ship your order out quickly.
TALON® LC Keeperless Hook:Our third generation cargo hook sets the standard in reliability — a high quality, lighter weight, and lower cost hook that also costs less to maintain over the life of the product.

Greater Value Than OEM System:

System incorporates numerous features and benefits beyond what the OEM system offers at a reduced price.

Release Safety:

Onboard cargo hooks are designed to release 2.5 times rated load. In an emergency situation, such as a longline snag, Onboard hooks give pilots a significant margin of safety in which to release the cargo load.

Fixed & Removable Provisions:

Includes both the fixed and removable cargo hook provisions.

Built-in Bumper Ring :

Polymer bumper ring helps keep both the hook and control cables from impacting the aircraft belly and causing damage that could lead to an inadvertent load release.

Best Availability, Pricing & Support:

Compare our prices & features against other cargo hook manufacturers and you'll see that Onboard Systems provides the best overall value. We stand behind every order with attentive customer support, backed by field- and hangar-experienced A&P mechanics.

Airframe & Hook Protection:

Built-in travel limits keep the hook from striking the airframe and relieve strain on the hook control cables.