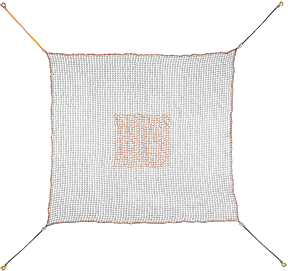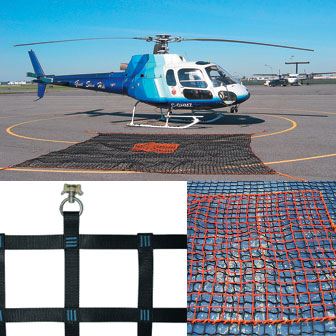 Product Number HCN1616-4C
16x16-FT (4.88x4.88-M)
Price: $ 1,535.00
Add to Cart
Call to confirm availability
5,000 LB WLL Square Cargo Net
Since 1978, Barry Cordage Ltd. has been manufacturing and distributing a wide range of industrial-grade, rope-related products and services. Barry's fabrication standards meet or exceed strict industry norms and reflect their unique expertise and innovative solutions in textile. Onboard Systems is proud to be an authorized Barry distributor.
Note:
Benefits
Strong & Light: Made from knotless nylon.
Choice of Size & Shape: Square and Octagonal nets are readily available in 12'x12', 14'x14', 16'x16' or 20'x20' sizes; other sizes are also available.
Reinforced Edging: UHMWPE fiber border rope and extension lanyards at each corner.
Reinforced Center Panel: Increases durability and visibility.
Polyurethane Coated: Provides UV & abrasion resistance.
Preloading: In-house preloading to 1T for low elongation.
Minimum 7:1 Safety Factor: Minimum 7:1 safety factor on all products (excluding hardware)
Easy Maintenance Tracking: Comes with log book, ID Tag, Certificate of Compliance & Inspection Guideline Document.
Transport Bag: Convenient transport bag with documentation pocket makes it easy to store and maintain your net.
Ask Us About: Other available net sizes, configurations, and carry capacities.
Manuals
Specifications
Unit Weight

48 LB (21.8 KG)

Working Load Limit (WLL)

5,000 LB (2,268 KG)